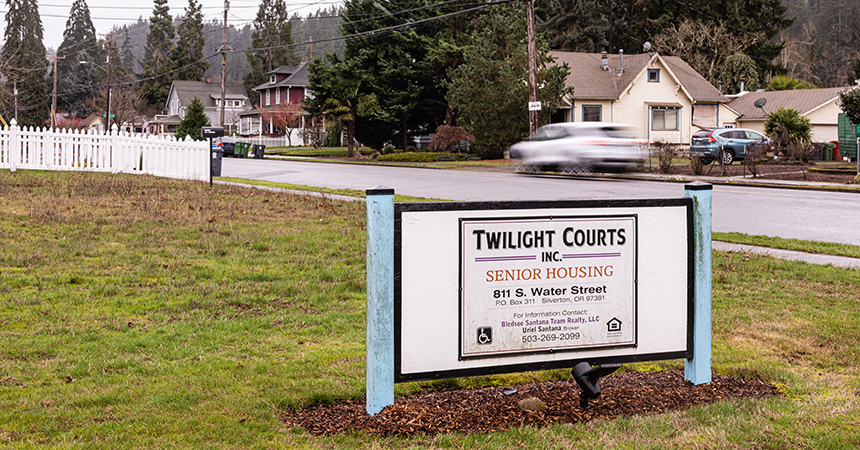 Twilight Courts is a non-profit, affordable senior housing community near Silver Falls State Park in Silverton. By offering apartments at below-market prices, the community provides housing to many local seniors who might not otherwise be able to afford a place of their own.
In 2020, the Twilight Courts board of volunteers began building four new apartments, adding to the original 30 units. The existing apartments, which had not been renovated since they were built in 1967, needed an update. Board Secretary Sandy Sanford, whose father once lived in the community, felt the board had an obligation to do so. "Considering the age of the buildings and how long they had been in use, it was up to us to do something about it," Sanford said.
The board agreed to install new windows and ductless heat pumps (DHPs) to help reduce utility costs and provide a more comfortable indoor environment for residents.
Cash incentives help make projects possible
The Twilight Courts board received support from Energy Trust of Oregon and the Oregon Housing and Community Services' Multifamily Energy Program (OR-MEP) to reduce the project's upfront cost. The window and DHP purchases qualified for over $81,000 in combined cash incentives from Energy Trust and OR-MEP.
Robin Kuhn, a former board member who was key in getting this project off the ground, said it likely wouldn't have happened had the board not secured these incentives. "I hate to think what this project would've looked like if we hadn't had help from these two programs," she said.
New windows keep indoor air fresh
Over the years, some of the original windows no longer sealed properly, and condensation became an issue. "Mold would grow between the panes of the old aluminum frame windows," said Uriel Santana, property manager at Twilight Courts. "But we no longer have that problem with these new windows."
One of the community's residents, Diane Keep, echoed Santana's sentiment. "There's no comparison to the old windows," said Keep.
"The air in my apartment feels cleaner and smells fresher now with the new windows. My allergies have gotten better, too."
-Diane Keep, resident
The tighter seal of the new windows muffles outside noise, providing more peace and quiet in the apartments. Now, residents aren't disturbed by noises from other residents, landscapers or the major road nearby.
User-friendly DHPs heat and cool apartments effectively
In the summertime, many Twilight Courts residents depended on window air conditioners to cool their apartments. These window units weren't effective and used large amounts of electricity. Wendy Shoemaker, a longtime Twilight Courts resident, said her new DHP made a big difference during the hottest days of summer 2022. "It kept the entire apartment cool, not just comfortable."
Shoemaker said her apartment's old baseboard heaters were less effective than her new DHP because "they were slow to start up and the heat would leave the second you turned it off." Residents are staying warm in the winter now thanks to the DHP's easy-to-use programming feature, which Shoemaker loves.
Keep also experienced increased comfort following the installation of her new DHP.
"The DHP helps me sleep better because it's quiet and keeps the whole apartment warm in the winter and cool in the summer. Good rest can really change your life."
-Wendy Shoemaker, resident
Improving energy efficiency and resident comfort go hand in hand
In total, Twilight Courts installed 94 new windows and 30 DHPs. These upgrades raised the comfort standard of all the apartments and made the multifamily property much more energy efficient. The community will save nearly $4,000 in annual energy costs.
"Being a senior, I'm on a budget," said Shoemaker. "Having lower electricity bills helps."
Funding opportunities are available to help multifamily properties improve energy efficiency
Replacing inefficient windows and installing new DHPs are just two ways multifamily and affordable housing property owners can reduce operating costs and energy usage and improve resident comfort. Explore incentives available for multifamily properties to learn what other projects Energy Trust can help fund.