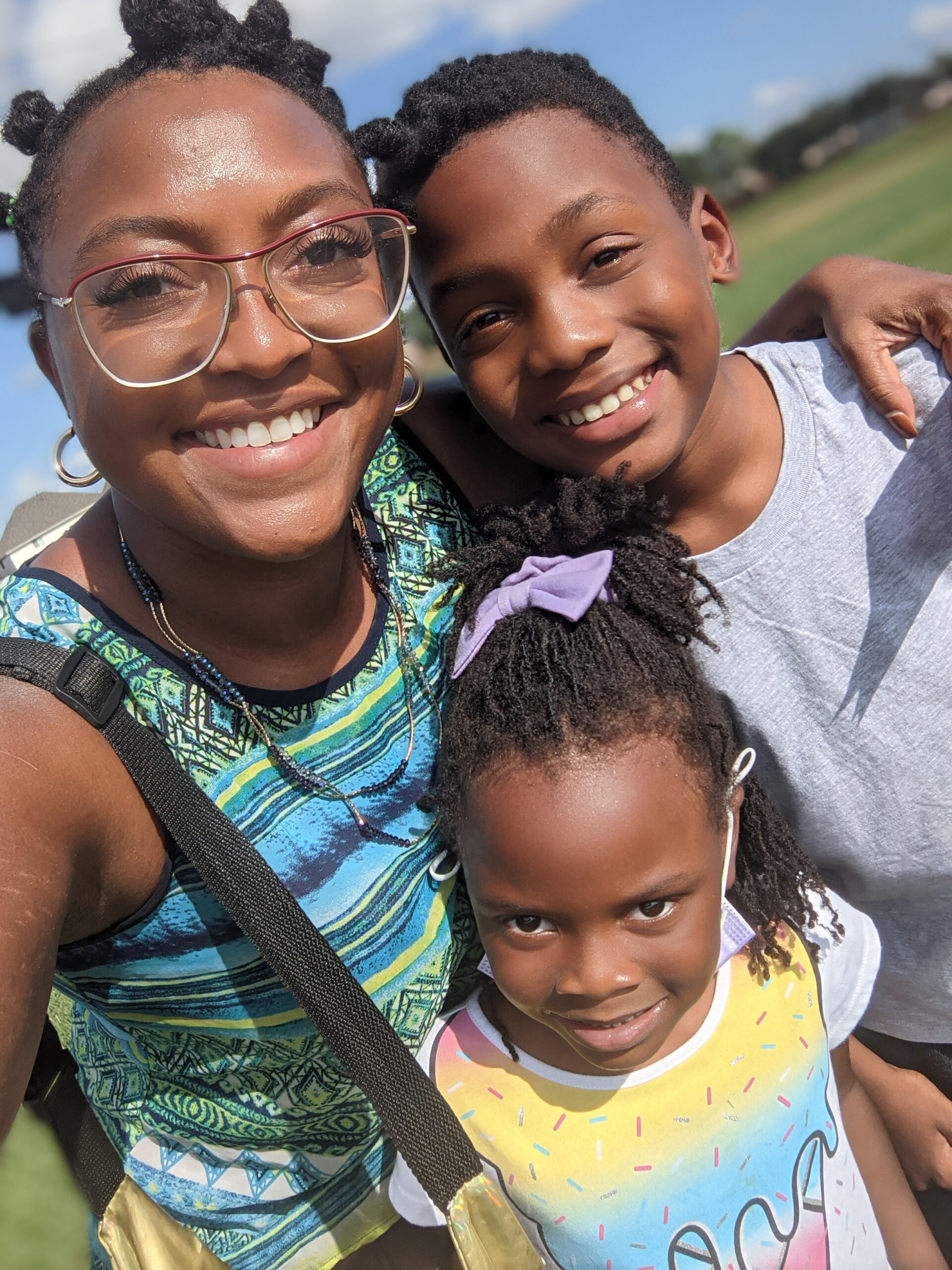 This is a part of a series of blog posts amplifying community voices. 
Sprinavasa Brown is the co-founder & executive director of Experience Life Science Outdoors (ELSO), a community-based environmental education nonprofit that uses the natural world to connect children from underrepresented communities to what's referred to as STEAM (science, technology, engineering, arts and mathematics) education. Brown co-founded ELSO to offer a learning environment where Black and Brown students can feel comfortable being themselves while gaining access to high-quality, engaging educational opportunities. Since its start in 2015, Brown has continued to expand ELSO's programming and offerings to include camps, programs, internships, and even a STEAM learning subscription box, Lab Lyfe.  
Q: Tell us about yourself and your work. What inspires you? 
I've always been passionate about community service and youth development. I met Dr. Kellianne Richardson, the other co-founder of ELSO, at Oberlin College where I studied biology and African American studies. It was there where we both started to understand the impact of seeing people who look like you in roles such as professor, mentor and career counselor.  
In 2015, I began looking for summer activities for my son. In Portland, the norm was for Black and Brown children to go to sports camps. There weren't many options for experiential learning, science and outdoor education where my Black child could learn, be engaged and make friends with kids that looked different from his school community, who were predominately white. That's when Dr. Richardson and I partnered to create Wayfinders, a summer camp where we brought together children who self-identify as Black, Indigenous, or Brown, on educational field trips across the Portland Metro area. The summer camp was inclusive, affordable—compared to most nature-based programs and camps — and it supported what students were learning in class.  
In addition to Wayfinders, we now run three other programs through the larger ELSO organization: Tappin Roots, a paid internship to expose young Black Oregonians to mentorship, storytelling, career exploration and leadership development; Your Street Your Voice, a program that introduces high school students to design careers; and EmpowHer, a program focused on the built environment for Black and Brown Femme and nonbinary folks.  
We also train, educate and support partner organizations in deepening their community partnerships with Black and Brown communities.  
Q: What does "sustainability" mean to you and the community you serve? 
When I think about sustainability, I think about how ELSO is constantly working to be a Justice, Equity, Diversity and Inclusion (JEDI) organization in terms of prioritizing those impacted by the effects of environmental racism and institutional systems of oppression.  
At ELSO, one of our goals is to offer quality education grounded in students' history and culture. That means some of our field trips sites are specifically designed to take kids to landfills so they can learn about human waste and consumption and see how it impacts the community as a person of color. We want these programs to get students interested in STEAM or science-based career paths and develop their skills of design thinking and critical thinking. 
Lastly, sustainability is about having the resources and power as a Black and female founded organization to sustain our programs. It has been difficult during the pandemic to receive enough support from foundations and the government to continue this work. We want to continue to bring awareness, understanding and actions to kids so they can make a difference. 
Q: How does your organization address issues around equity? 
We work with a consultant named Tony Funchess of Unlimited Potential PDX and have adopted his definition of equity: "We believe equity means ensuring that all involved have that which is necessary to bring fairness into their lives and that the systems they interact with aid them towards wholeness, self-sufficiency, well-being, success, sustainability and joy."  
This means not turning families away because they can't afford camp, having staff members who speak Spanish, and share heritage with our youth, and working with each family to identify student needs to make sure their child can fully participate in camp. 
We strive to push our partner organizations to leverage their resources for ELSO participants. Historically white-led organizations have access to resources like materials, supplies and land that we don't have access to.  
Internally, we address equity by hiring a diverse staff to ensure we are a Black-led, POC-directed organization, with LGBTQ and women of color in leadership.  
Q: What are the biggest challenges your organization is currently facing in your community?  
We've been around for over six years, but a lot of folks still don't know about us. It takes a lot of time to build rapport and it often feels like we are competing with businesses for limited financial resources.  
Another challenge is addressing the need. We've grown fast to increase our capacity to support youth, but we say no to so many more opportunities. For example, we had sixteen interns in one of our programs but had 55 applicants. We're also interested in expanding to other parts of the state and other states but need to stay true to who we are as a community-based organization as we grow. 
Q: If you had unlimited resources, what is the one thing your organization would focus on that you may not currently be able to?  
The science, specifically nature education, taught in schools today is not culturally relevant and focuses on competition rather than empowering students. We want to change that. We want to create engaging, culturally relevant STEAM curriculum. Globalization and climate change are some of the most pressing issues that kids are going to face as adults, so we need to prepare them now with out-of-the-box thinking and solutions.  
Recently, we have been working on the launch of #Lablyfe, a curated, monthly subscription box. During the pandemic, we started research with families about navigating virtual education and exploring what hands-on tools kids need. We came up with a subscription box that has stories from Black, Brown, and Indigenous communities, career-focused activities, and features items from Black, Brown and Indigenous-owned businesses. Our goal is to have these items available at places like OMSI, so families see themselves reflected. All children can benefit from knowing about the scientific achievements of Black and Brown communities.  
Q: What do you wish everyone knew about this work?  
I wish everyone knew that there is a place for them to support children of color. Since the murder of George Floyd, we get a lot of interest from white-owned businesses and white parents and families who want to know how to help. I want people to know there is something you can do, whether it is being a volunteer for one of our programs, to being an advocate or an ally.