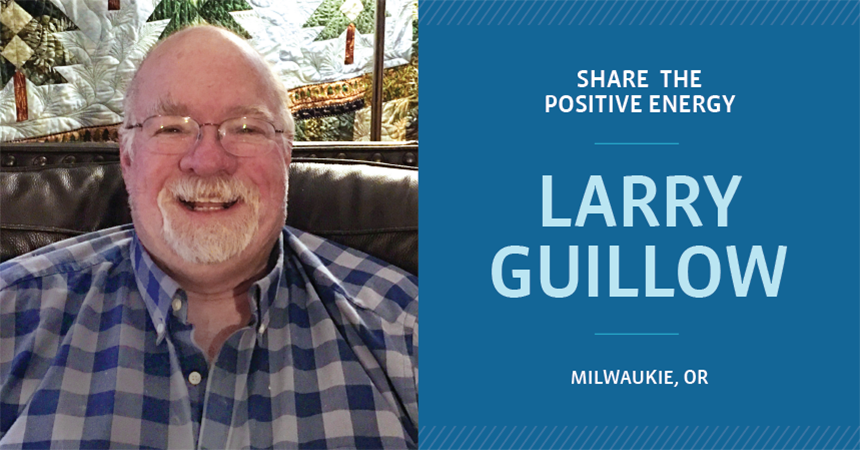 February of 2021 was quite a time for Larry and Theresia Guillow to move into their Milwaukie home. Immediately greeted by an ice storm, they quickly knew they could use an upgrade to their existing insulation.
The home was built in 1966 and still only had the original insulation in the attic. While Larry likes the idea of tackling his own home improvements, he admits it's a little harder now that he's older, so he recruited his son-in-law and daughter to form a DIY team.
The family purchased insulation and rented a blower from the same store, and used insulation incentives from Energy Trust to help cover the costs.
"We were just really ecstatic. We put in the higher quality insulation knowing it would save us money. It reduced our gas bill tremendously and the temperature stays more consistent. It's very, very nice." Larry said.
The frozen winter wasn't the only thing compelling Larry and Theresia to make updates to their home. They were also concerned about higher summer temperatures.
"We wanted to put in air conditioning, and the old furnace wouldn't support it. We were worried it might break," Larry said.
That furnace was 24 years old at the time Larry and Theresia bought the home. Being retired, they happened to qualify for increased incentives through Energy Trust's income-based Savings Within Reach program. This helped them afford a new furnace and air conditioner within their budget.
Larry and Theresia were also able to choose energy-efficient solutions for their home improvements, which is something they feel really good about.
"The energy efficiency gives us a better overall living environment," Larry said. "It's healthier and in the long run, we're saving money. We're really happy about it."
Share your story, inspire others
Energy savers, we want to hear from you! If you're excited about home improvements you've made with help from Energy Trust, we welcome you to share your story.