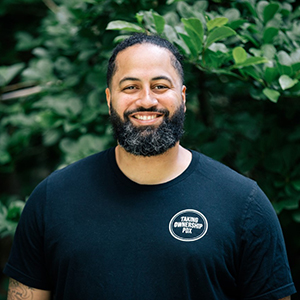 This is a part of a series of blog posts amplifying community voices. 
Randal Wyatt is the creator of Taking Ownership PDX, an organization that renovates and repairs Black-owned homes while raising awareness about historical redlining, gentrification and systemic racism in Portland. As a Portland native who experienced gentrification first-hand, Wyatt has fought against injustices by serving his community as a social worker, mentor and activist. Before starting Taking Ownership PDX, Wyatt's love of hip-hop led him to organize programs that provided youth education and access to hip-hop culture. With starting this new organization, he is continuing to make a difference in the lives of Black community members in Portland through direct action.
Q: Tell us about yourself and your work. What inspires you?
I'm a Portland native, a father of twin boys and a hip-hop artist. Before creating Taking Ownership PDX, I correlated my love of hip-hop with community activism by organizing youth-oriented events like talent shows at recreation centers, fundraisers and benefit concerts. This eventually led to me becoming a social worker and then a residential treatment counselor at the Salvation Army White Shield. From there, I became a mentor for Black and Latino youth on probation. My last position before starting Taking Ownership PDX was as a student advocate at Portland Youth Builders, where I helped students overcome personal barriers. I also started a project to educate youth and adults on Oregon's Measure 11, which sets the state's mandatory minimum sentencing guidelines, and how it disproportionately impacts Black and brown communities.  
When George Floyd was murdered, many people asked me how they could be better allies to the Black community and other marginalized populations. My answer is to share your resources. White supremacy is predicated on land ownership and the Black community has been displaced blatantly and rapidly here in Portland. This is why I created Taking Ownership PDX. My mission is to slow the process of displacement by helping these communities repair their homes, alleviate financial burdens and raise awareness along with property values.
Q: What does "sustainability" mean to you and the community you serve? How does energy play a role?
Climate change disproportionately affects Black and brown communities because there is a wealth gap. As far as annual income, white communities have more resources and opportunities to have energy-efficient homes. At Taking Ownership PDX, we repair and upgrade windows and roofs to create more energy-efficient homes that will help lower the monthly costs of electricity and gas. We have also partnered with Energy 350 to provide energy-efficient heat pump water heaters to Black homeowners. These communities are and have been economically excluded, so we provide reparations through free home repairs. We can't sustain oppressed communities without equity; we must take action to uplift them. 
Q: How does your organization address issues around equity?
We raise money, allocate funds and provide free repairs and upgrades to the Black community. We do this to bridge the wealth gap between Black and white family incomes that was created by oppression and economic exclusion. This work is helping stimulate the economy by providing financial relief and jobs for minority owned businesses, as well as other businesses in general.
We also raise awareness and work with the City of Portland to get liens and other fines reversed on homes. Displacement often begins when Black communities transform into white communities and white neighbors call the city because the Black neighbors' homes may not be up to the standards of this "new" neighborhood. Then Black communities receive liens on their homes. We try to raise awareness about this in the neighborhoods we work in and with the City of Portland.  
Q: What are the biggest challenges your organization is currently facing in your community? 
As a small, community-based organization, one of our biggest challenges is finding resources and raising money. Every project is a challenge because every home is different, and we need to customize our services to the needs of each home. Other challenges include the cost of supplies, like lumber and roofing during the pandemic, and getting support from institutions like the city. 
Q: If you had unlimited resources, what is the one thing your organization would focus on that you may not currently be able to?
I have a waitlist of more than 100 families in need of home repairs and I'd like to build our capacity to work with more families more quickly. As the only full-time employee of Taking Ownership PDX, I would like to eventually hire people to provide services a lot quicker. I'd also love to expand our services to helping people buy homes and helping workers who have the skills but maybe not the money to become licensed and bonded contractors. 
Recently, I bought a home from a woman who heard about my organization and loved the work we were doing. The home is in a historically Black neighborhood (due to redlining), and she wanted to put a Black family back in the home without making a profit, so she sold me this house for what was left on the mortgage. This act shaped my family's future by giving us equity. I'd love to provide down payments for Black and brown families and put them back into the communities they are from, where many of the community services they access are still present. 
Q: What do you wish everyone knew about this work?
Believe it or not, some people have told me they think I'm racist because I've created a culturally specific organization helping the Black community. I wish these people understood the concept of equity and how it is important to lift oppressed and economically excluded populations. I also wish people understood that culturally specific services like Taking Ownership PDX are important because they provide reparations and equitable practices, which benefit all of us. 
If you would like to donate to Taking Ownership PDX, click here.