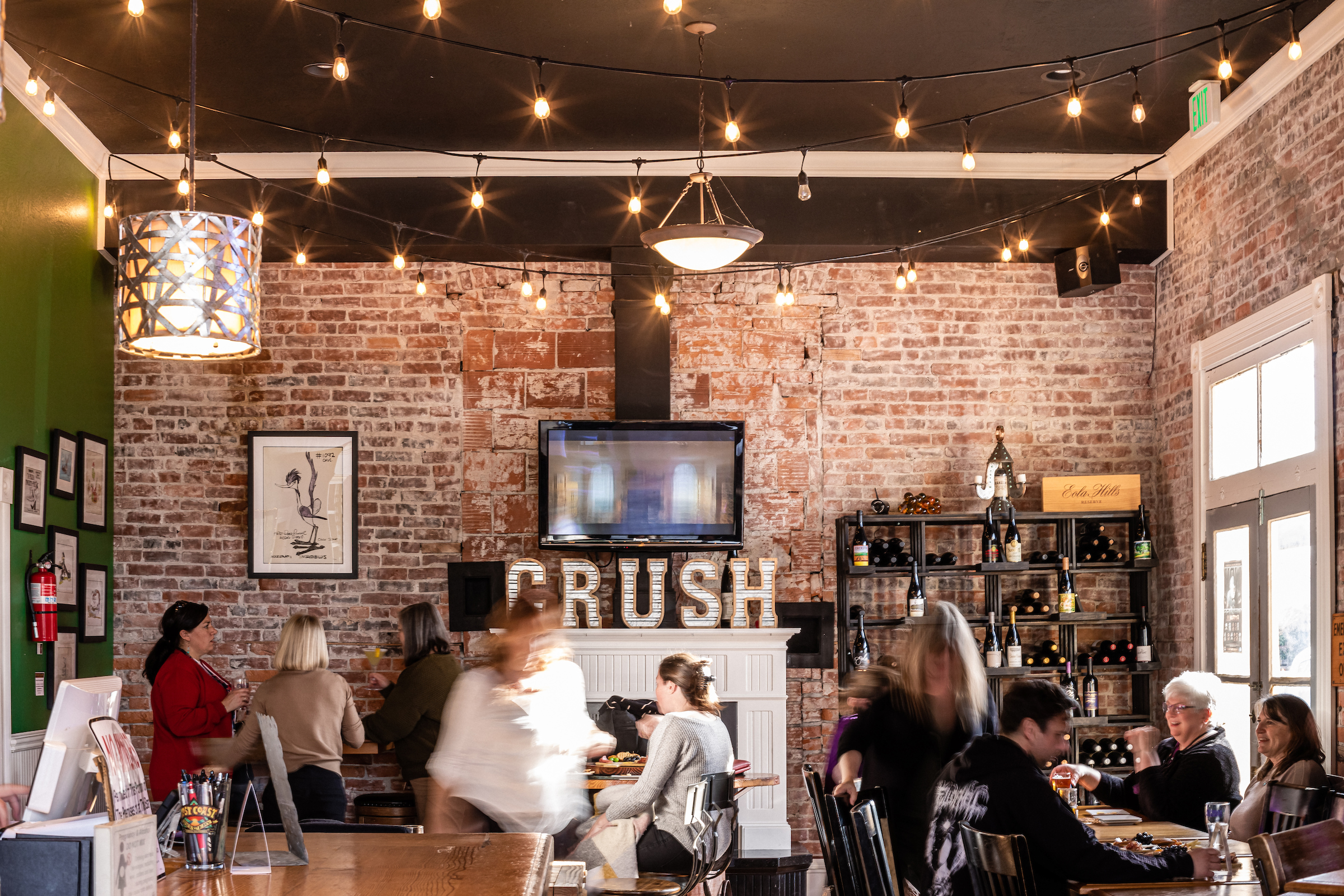 John Bracken knows how to pivot. He's had to adjust his plans on the fly ever since an injury curtailed his football career at Western Oregon University. To make up for the loss of his athletic scholarship, he started waiting tables — learning the ins-and-outs of food service while completing his degree in business and entrepreneurship.
When Bracken took over Crush Wine Bar and Tasting Room in downtown Monmouth in 2019, he hoped to bring new energy to the business, housed in an old brick building across from Main Street Park.
The former owners offered finger foods to pair with the wine list, but Bracken imagined upgrading the existing kitchen (little more than a hot plate) to support a full restaurant menu.
"I started realizing how important food is to driving drink sales," he said. "We were already one of the nicer places in town, so we decided to get our food to the same level."
He couldn't know that COVID-19 would soon throw a wrench in those plans, but Bracken's entrepreneurial background meant he was able to adapt to whatever fate dished up.
A month before pandemic restaurant shutdowns rolled out, Crush introduced an expanded menu. But health issues soon caused the chef who developed the new menu to quit.
"He had a doctor's appointment the week before the shutdown. The day after the shutdown, he got the call that he couldn't work anymore," Bracken said.
"Every single sauce, every menu item, was made from scratch with no recipes yet. It was all in the chef's head because it was just a trial thing at this point."
Undaunted, Bracken had the departing chef train him in the kitchen, learning to make bison sliders, blackened salmon, bacon-wrapped filet mignon and other finicky dishes. "I became a cook, very quick," he said, laughing at the memory.
Then, about a month into the full dinner service, pandemic safety rules caused Crush to close the dining room. Like many small restaurants, the wine bar turned to takeout and delivery as a way to keep the business alive and avoid laying off its staff, many of whom were students at Western Oregon.
"I had a really good crew," Bracken said. "Most of them were college students that were going to be teachers. I was lucky to have these smart hard workers. Everybody was fighting for each other and fighting for me, which was awesome."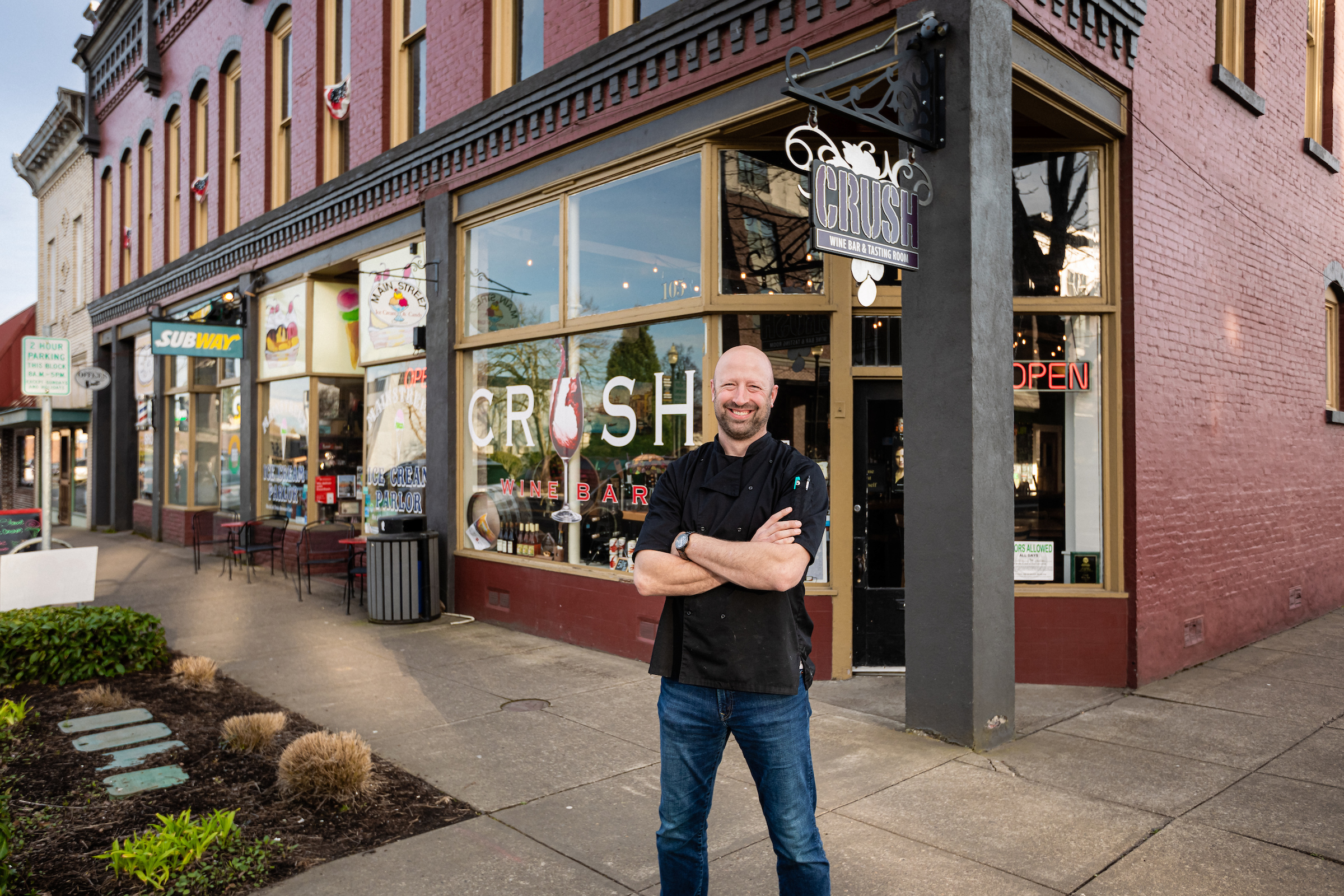 When he bought Crush Wine Bar and Tasting Room in downtown Monmouth, owner John Bracken couldn't know how much his success would depend on his ability to pivot.
Bracken quickly tapped into his staff's willingness to experiment. "Within a day and a half, we had my personal vehicle registered to the company so we could do growler and wine bottle deliveries as well as food. That was at least half of our sales, being the only place in town that would deliver wine or beer."
He also made sure everyone was cross-trained — bartenders learned to be sous chefs; waitstaff became delivery drivers, and so on — so that no one lost their jobs.
When Mother's Day rolled around, Crush offered wine and mimosa kits, partnering with other local businesses to package the drinks with floral bouquets and chocolate-dipped strawberries for a memorable at-home celebration.
Bracken stepped up his delivery service to meet demand, with drivers crisscrossing the area from Albany to Woodburn to drop off orders. "We had to turn the dining room into an assembly line with tables and flowers and everything else," he said. "It was craziness, but the team adapted."
As the months passed and COVID restrictions eased, Bracken was finally able to start his kitchen renovation. He chose gas appliances because they offered a wider selection and better cooking technology than electric.
Another selling point: The energy-efficient deep fryer he bought qualified for cash incentives of $1,000 through Energy Trust of Oregon. And it will cut Crush's utility bills by more than $400 a year, savings that mean a lot in a business where margins are slim.
"It's been a little shot in the arm as we're going through these waves of growing pains," Bracken said of the incentive. "It was nice to be able to take advantage of that, especially at a time that was so tight fiscally."
With the new equipment, Bracken's business is in the midst of another pivot. The kitchen can now prepare twice as many meals as before, and get them to guests quicker, improving Crush's customer service. And Bracken has become more inventive with the menu, offering weekly and seasonal specials to keep his regulars coming back.
"It's allowing us to explore things that we didn't have the capacity for previously," he said. "That's a big deal."
Learn more about energy efficiency for your restaurant or food service business with Energy Trust.