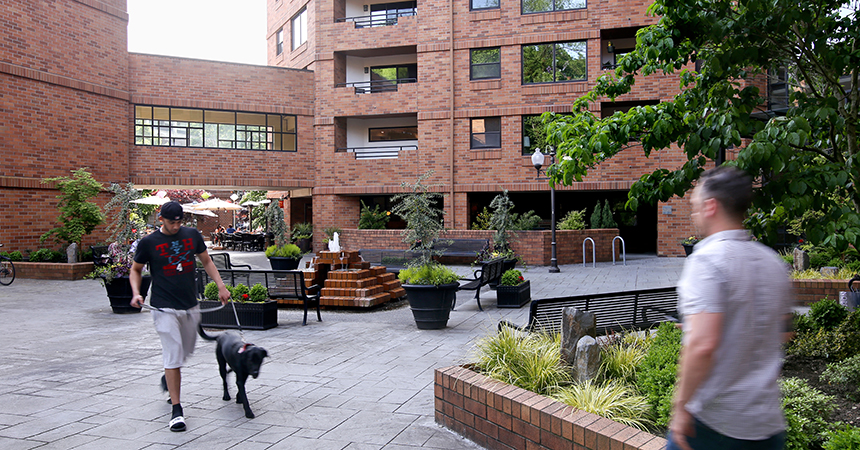 Energy-efficient upgrades can reduce energy use, improve resident comfort, lower utility bills and lessen resident turnover at your multifamily property. Energy Trust of Oregon offers property owners and managers cash incentives for appliances and equipment installations, helping reduce the upfront costs of energy-efficient replacements.
The following energy-saving upgrades can improve the quality of your property:
New windows are a smart investment to help reduce energy costs
Older single- and double-pane windows were not designed with energy efficiency in mind. Installing modern windows can reduce drafts, improve indoor air quality and keep residents comfortable while lowering energy usage. Cash incentives are available for replacement windows that are proven to reduce energy waste.
Energy-efficient windows also do a better job of minimizing outside noise. Tighter seals and multiple layers of glass dampen noise more effectively and limit air leaks, resulting in reduced heating and cooling costs.
Replacing or adding insulation can save more energy than you think
HVAC systems work harder and longer to cool and heat spaces that aren't well insulated, which drives energy costs up. Evaluating your insulation may uncover hidden energy savings. New insulation can reduce energy usage and help prevent the flow of air between the inside and outside of your property. An Energy Trust trade ally can help you check your existing insulation for leaks and identify energy-saving opportunities.
Adding insulation to hot water pipes reduces the amount of heat that is lost as hot water moves from tank water heaters to sinks, showers and dishwashers. By adding pipe insulation, water will heat up faster and reduce the amount of time residents will have to run their water to reach their preferred temperature, which can help conserve water. This makes pipe insulation an inexpensive solution that reduces both energy and water usage.
You can save a substantial amount of energy by installing a modern, dependable gas furnace
Upgrading your current gas furnace to an energy-efficient model can lower utility costs and provide reliable heating to both residents and property staff.
Aging gas furnaces often require frequent maintenance to operate consistently. If your maintenance team is regularly called away from other projects for furnace repairs, it might be time to update your property's gas furnace. New gas furnaces perform more reliably, which means your maintenance team can focus on other projects with fewer interruptions.
Multifamily properties can become more efficient for less with Energy Trust
Your property can make these and other energy-efficient upgrades at a lower cost through cash incentives from Energy Trust. Email multifamily@energytrust.org or fill out an interest form to schedule a free on-site walkthrough and uncover the energy savings potential at your property.