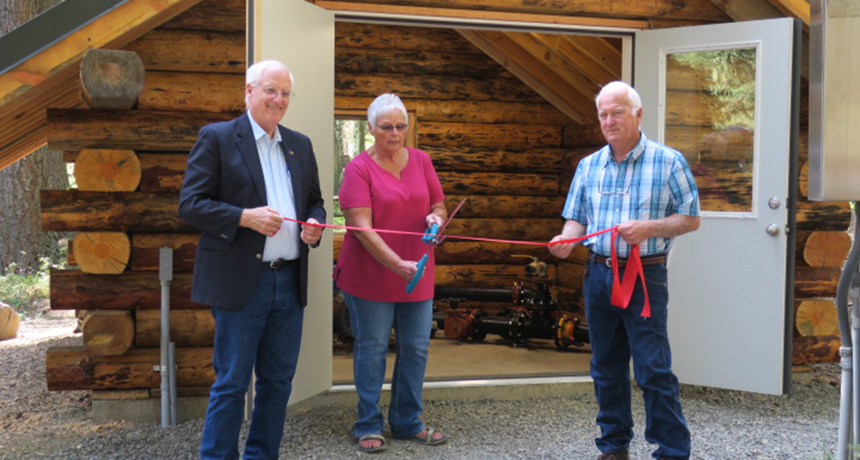 From left: Senator Bill Hansell, Commissioner Susan Roberts, Commissioner John Hillock
On Friday, August 23, Wallowa Lake County Service District, Pacific Power, Wallowa Resources and Energy Trust held a ribbon cutting to celebrate the region's newest hydroelectric project: a 22-kilowatt micro hydropower facility located within Wallowa Lake State Park. This technology uses the water flowing into the lake to power a hydroelectric turbine—generating clean energy from a renewable natural resource within the park.
The project will generate around 134 megawatt hours of clean energy each year—enough to offset about 85 percent of the power needed to provide reliable drinking water to nearby Wallowa Lake residences and businesses. Reducing energy costs frees up funds for Wallowa Lake County Service District to devote to other core services that benefit the community.
An $80,000 cash incentive from Energy Trust, additional funding from Pacific Power's Blue SkySM customers and on-the-ground support from Wallowa Resources helped make this project a reality. By engaging in innovative partnerships like this one, Wallowa County sets an example of how modest investments can lead to long-term benefit for Oregon's communities.
"Investing in renewable energy lowers costs now. And it provides local, clean energy for years after that. Energy Trust is proud to support Wallowa Lake County Service District's investment in its energy future," said Energy Trust Executive Director Michael Colgrove.
At the event, Senator Bill Hansell and Wallowa County Commissioners Susan Roberts and John Hillock joined to offer congratulatory remarks and help cut the ribbon on the new system, and attendees had the opportunity to tour the power house and hydropower facility.
"Oregon can be a leader in producing affordable, green and renewable energy by using our abundant natural resources in a sustainable way," said Senator Hansell. "I hope this project will serve as an example for the entire state as communities look to renewable forms of energy."
Energy Trust has helped over 1,200 residents and businesses in Wallowa County make energy-efficiency and solar investments that have saved them almost half a million dollars since 2002.