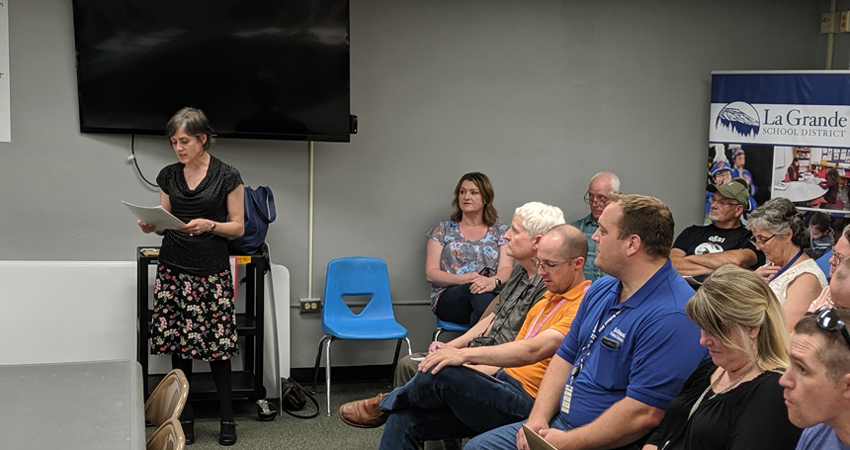 Energy Trust's Eastern Oregon outreach manager, Caryn Appler, shared La Grande School District's energy-efficiency report card with community members during a school board meeting in June.
With everything from outdated control systems to inefficient windows, two school districts in Eastern Oregon faced some major challenges controlling energy costs and keeping students and staff comfortable. Working with Energy Trust of Oregon, La Grande School District and Umatilla School District made a variety of upgrades that have propelled them to the head of the class for energy efficiency, while greatly improving their environments for learning.
La Grande School District
Serving nearly 2,400 K–12 students, La Grande School District's facilities include three neighborhood elementary schools as well as a middle school and high school. The school buildings vary in age, with construction dating from the 1950s to as recently as 2017.
From a facilities standpoint, La Grande School District's primary goal is system reliability—reducing maintenance time and costs, maximizing energy efficiency and creating a comfortable environment. The district's facilities are a hub for community activities, making comfort and reliability even more important.
"Major breakdowns cost time and effort to fix, plus cause a loss of energy," said Joseph Waite, operations manager at La Grande School District. "A reliable system is our priority because it keeps us from losing money and fighting an uphill battle—there are only so many issues you can fix at one time."
Between 2017 and 2019, La Grande School District installed a variety of equipment, including a gas-fired condensing boiler, building controls, a tankless water heater, pipe insulation and steam traps. Additionally, one of the oldest buildings received new ventilators with cooling and heating capabilities to help classrooms maintain optimum temperatures.
The results have been impressive. The district is saving 12,000 kWh and 12,000 therms, which amounts to $9,800 in annual energy cost savings.
Joseph was happy with the assistance he received from Energy Trust. "They can provide your district with cash incentives for a wide range of upgrades," he said. "Energy Trust doesn't push you to make decisions, but are friendly and open about what your options are and the incentives you may be eligible for."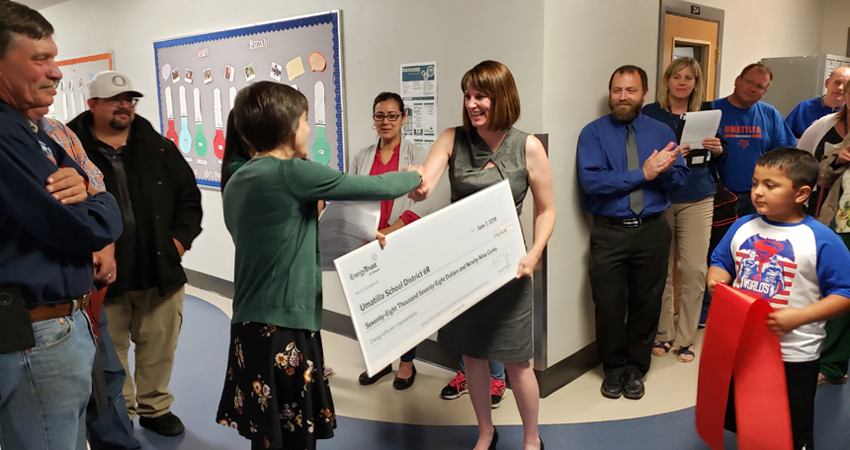 Umatilla School District's superintendent, Heidi Sipe, accepts a check from Energy Trust.
Umatilla School District
Umatilla School District has also been busy saving energy and money. Their facilities include three school buildings, along with district offices and a community center. A 2016 bond project provided funding for upgrades across the district, most of which were completed in 2018.
Clara Brownell Middle School was constructed in 1947 and was entirely original until the 2018 improvements. Upgrading the building's aged infrastructure offered a huge opportunity to increase energy efficiency. The district installed custom building controls, plus added new attic and wall insulation.
Umatilla High School was constructed in 1999, but its HVAC system was problematic from the start. "Since the building opened, we've struggled to maintain steady temperatures. It was cold in the winter and hot in the summer," said superintendent Heidi Sipe. Upgrading to direct digital controls has given facilities staff much better control over the school's environment.
Additional energy-efficiency projects have included custom building controls for all three schools. McNary Heights Elementary School has also benefited from a new dishwasher, bathroom and kitchen aerators and improved exterior and interior lighting.
"We're always looking for ways to increase opportunities for learning," said Heidi. "Energy efficiency dovetails with this objective, helping to create a more comfortable school environment. And if funds can be freed up from energy expenditures and invested in learning, that's a huge gain for students."
Umatilla School District's energy-efficiency efforts in 2018 and 2019 are already saving 235,000 kWh and 16,000 therms—$29,800 in annual energy cost savings.
Just as exciting is how students are getting involved in energy efficiency. The students—in tandem with school district administration and maintenance staff—formed a Strategic Energy Management (SEM) team in 2019, which focuses on identifying energy savings through no- or low-cost operations and maintenance improvements. Using planning tools and resources provided by Energy Trust, the students work with maintenance staff to reduce energy use. Students are actively involved in SEM activities across the elementary, middle and high schools. A new generation is making their mark as true energy champions.
The future is bright—and energy-efficient
For both school districts, this is just the beginning. The money they're saving through increased efficiency means that more funds are available to launch additional improvement projects in the future.
"Schools are more than just classrooms," said Joseph. "Our entire community uses our buildings for a whole range of activities. Energy Trust helped us accomplish more with the limited funds we had available. And that benefits everyone."
Learn how Energy Trust's incentives and resources can help improve your school's facilities.