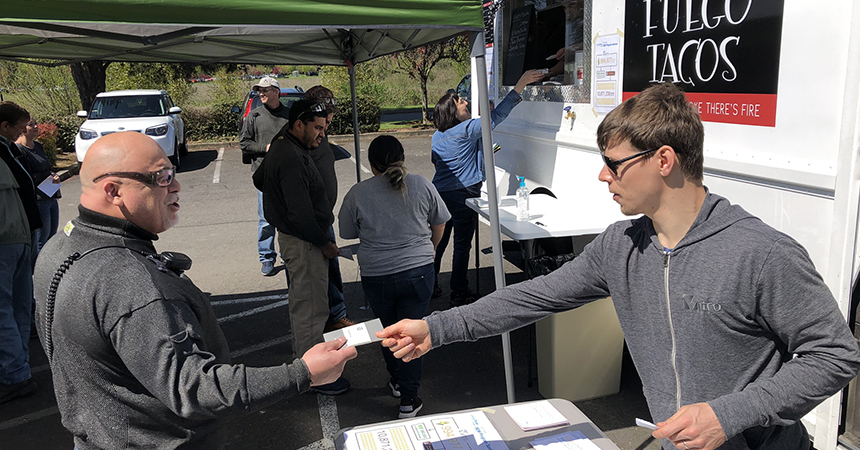 Energy Champion, Alex Gerasimenko (right) chatting with another Vitro employee about SEM
Vitro Architectural Glass, a participant of Energy Trust of Oregon's Strategic Energy Management (SEM) offering, celebrated a successful year of energy savings with a taco truck party for employees. SEM helps organizations identify significant cost-saving opportunities and capture energy savings with continued learning and support opportunities.
In addition to participating in SEM, the glass manufacturing company completed numerous energy-efficient projects including adding vacancy sensors, exterior occupancy sensors, LED lighting, fixture mounted occupancy sensors and more.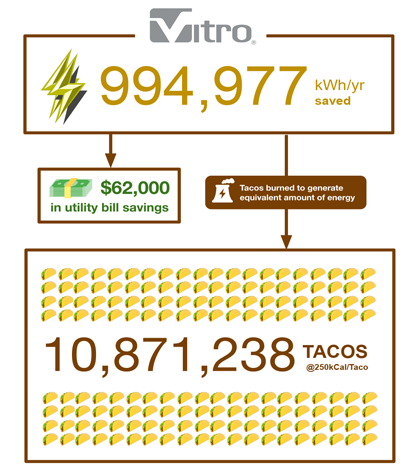 A poster showcasing the plant's energy savings in kilowatt-hour/year and tacos helped Vitro Architectural Glass engage with its employees about SEM. The 994,977 kWh saved annually is the energy equivalent in calories of roughly 10,871,000 tacos. In addition to energy savings, the plant is saving approximately $62,000 in annual energy costs.
Energy Trust congratulates the plant on its commitment to energy efficiency and participation in SEM. To find out more about Strategic Energy Management enrollment opportunities and energy-efficiency upgrades, visit www.energytrust.org/industrialSEM and connect with an Energy Trust representative serving your area.