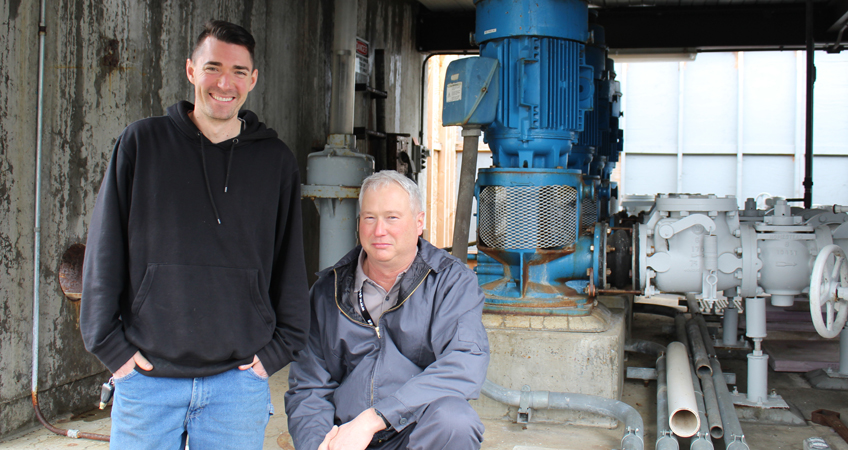 Bob Esch, energy champion (right) and James Green, data master (left). Photo courtesy of City of Corvallis.
On a gray day in January, workers at the City of Corvallis Wastewater Reclamation Plant fanned out across the sprawling facility, carrying notebooks and flashlights. Their goal: to reduce energy usage at the facility by identifying operational improvements that could contribute to significant energy savings and improved sustainability for the City organization.
This "treasure hunt" was organized by the Public Works Department through a partnership through Energy Trust of Oregon's Strategic Energy Management offering, which encourages large municipal utilities to reduce energy usage. The Wastewater Reclamation Plant, located on the east side of Corvallis, is one of the largest single users of electricity in the City of Corvallis.
Asking Tough Questions
Workers at the wastewater plant challenged themselves to find energy savings equivalent to five percent of the facility's total energy usage, which equates to approximately 223,000 kilowatt hours annually– no small feat at a facility that runs 24 hours a day and treats four billion gallons of water each year.
As part of the treasure hunt, workers examined existing systems and procedures throughout the plant, asking tough questions and thinking outside the box whenever possible. In one example, an employee identified a large air compressor that was set to run automatically for about 70 hours each week to keep a set of valves pressurized. A closer examination of the system showed that the large air compressor could be replaced by a smaller unit that ran less frequently to achieve the same goal.
Workers identified dozens of these energy-saving opportunities, large and small. Some, like swapping out the air compressor, represented quick wins. Others will require more extensive work to implement, but the potential payoffs are more substantial. Some may even qualify for cash incentives from Energy Trust. In all, the wastewater plant utility workers identified more than 60 potential energy-savings projects.
Leading the Charge
"The goal of the program was to change the culture and optimize the systems and equipment that we already have," said James Green, a wastewater plant operator and one of the treasure hunt leaders. "We're looking at things through a new filter and breaking the old ways of thinking."
The Corvallis employees were joined by public utility employees from Albany and Salem, both of whom had gone through their own treasure hunts previously. Inviting in neighboring agencies encouraged everyone to take a fresh look at longstanding practices around the plant.
City officials praised the leadership and buy-in exhibited by the treasure hunt participants.
"I was really impressed by the energetic and enthusiastic teamwork I saw during the treasure hunt at the wastewater plant," said Tom Hubbard, utilities division manager. "Staff were engaged and excited to make a difference, both for their coworkers and for the Corvallis community."
This is the second energy reduction initiative undertaken recently in Corvallis. Last year, workers at the Taylor Water Treatment Plant in south Corvallis conducted their own treasure hunt and identified 37 potential energy-saving projects. According to Taylor Water Treatment Plant, the program wrapped up with a five percent reduction in overall usage, representing $17,000 in annual energy cost savings.
To find out more about Strategic Energy Management enrollment opportunities and energy-efficiency upgrades, visit www.energytrust.org/industrialSEM and connect with an Energy Trust representative serving your area.
Article courtesy of City of Corvallis Oregon