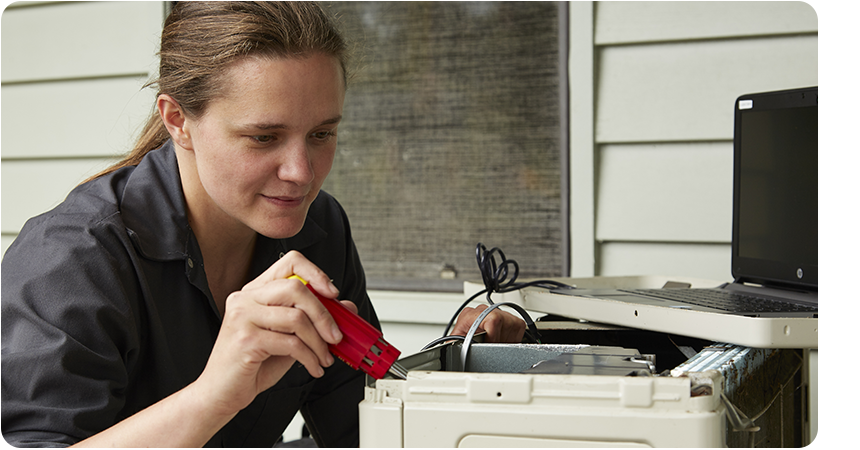 Residential, commercial, industrial and agricultural customers met their energy goals in 2014 with help from a strong network of Energy Trust trade ally contractors and other allied professionals, including architects, engineers, designers, builders and real estate agents.
Energy Trust works closely with trade allies and allied professionals to serve 1.5 million utility customers in Oregon and southwest Washington. Cultivating this wide and diverse network creates jobs and builds local capability at a community level throughout the state. More than 2,400 local businesses employ 14,700 people who complete Energy Trust customer projects. Of those companies, 81 percent are small businesses with 20 workers or less.
In 2014, we invested in this valuable network to reach and serve customers with energy-saving and renewable power programs. For example:
To help trade allies make the case for energy-efficiency upgrades, we sponsored sales certification trainings around the state.
A New Allies for Efficiency training series attracted more than 420 architects, engineers and other individuals looking to learn about constructing high-performance buildings
Existing Homes three-star trade allies offered instant incentives for heating and water heating equipment, making it easier for customers to submit incentive applications and resulting in more projects
Our online customer referrals helped generate customer leads for trade allies, reducing the cost of acquiring new customers.
To boost awareness of opportunities for minority- and women-owned businesses to join the network, outreach staff attended the 2014 Governor's Marketplace Conference and Oregon Association of Minority Entrepreneurs trade show.
To learn more about our 2014 accomplishments and our statewide partnerships, view our 2014 Annual Report.