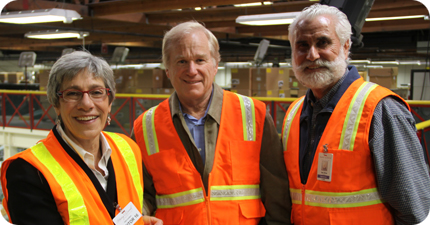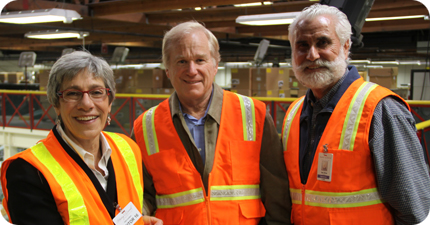 Energy Trust Executive Director Margie Harris toured energy projects in communities in southern Oregon and along the North Coast in late 2012. She met with Energy Trust participants, public officials and economic development representatives to highlight regional clean energy investments and results. The visits were part of Energy Trust's recognition of a decade of delivering clean energy solutions to more than 1.5 million utility customers of Portland General Electric, Pacific Power, NW Natural and Cascade Natural Gas.
Southern Oregon
Energy Trust provides utility customers of Pacific Power and NW Natural in southern Oregon with a diverse range of energy-efficiency and renewable energy solutions to help them cut costs, improve comfort and boost productivity. More than 350 trade ally contractors in the region connect customers to Energy Trust services and incentives.
Over 10 years, residents, businesses and manufacturers in Coos, Douglas, Jackson, Josephine, Klamath and Lake counties accessed $50 million in Energy Trust cash incentives. They have completed energy projects that have saved 280 million kilowatt hours of electricity and 230,000 therms of natural gas. This is equal to the amount of energy needed to power all the homes in Klamath Falls and heat another 450 homes with natural gas for one year.
From a decade of energy actions the region saved $20 million on energy bills in 2011. These dollar savings are now available for other needs, creating greater economic benefit for southern Oregon.
Harris toured local projects, including the City of Medford Water Reclamation Facility, Timber Products and Harry & David. She spoke to more than 80 attendees during a luncheon held at Rogue Valley Manor, acknowledging local efforts to save energy and power homes and businesses with clean, renewable energy. Other speakers included Energy Trust board member Ken Canon, Pacific Power's Regional Community Manager Monte Mendenhall and Buzz Thielemann, owner of RHT Energy Solutions. RHT, a Medford-based company, delivers both outreach and commercial and industrial program delivery services for Energy Trust.
North Coast
Along the North Coast, including Clatsop and Columbia counties, Pacific Power and NW Natural customers can access Energy Trust services and incentives. In the past 10 years, residents and businesses received $6 million in incentives to invest in ENERGY STAR® appliances, install energy-efficient water heating and HVAC systems, improve industrial processes and create their own power from roof-top solar systems. Energy projects completed at 7,400 homes and business sites saved $3 million on energy bills around the region in 2011.
While in Astoria, Energy Trust staff visited local projects, including the Seaside Police Department. In addition, Harris, Pacific Power's Regional Community Manager Sheila Holden and NW Natural's Regional Community Affairs & Sales Account Manager Teresa Accuardi led an evening reception at Baked Alaska, a local restaurant, on how the region can build on its 10 years of energy efficiency and renewable energy efforts.
Additional visit
Read more about Energy Trust staff visiting Pendleton and recognizing the energy actions taken by northeast Oregon residents and businesses over the past 10 years.
Photo 1 (left to right): Margie Harris, Energy Trust; Buzz Thielemann, RHT; Dan Rice, Harry & David
Photo 2 (left to right): Chris Holen, Baked Alaska; Margie Harris, Energy Trust; Teresa Accuardi, NW Natural; Sheila Holden, Pacific Power