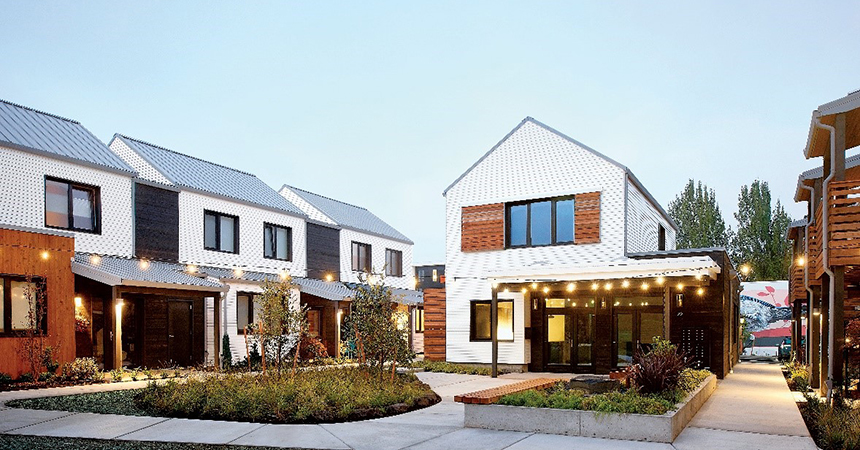 Photos courtesy of Bill Purcell with Green Hammer
Tillamook Row, a new 16-unit community in Northeast Portland, has reached an exciting benchmark for innovative design in multifamily properties. As the city's first net-zero multifamily community, sustainability and energy efficiency are part of every aspect of the design, from rooftop solar all the way to the community garden's rainwater irrigation system.
Developed by BCMC Properties and designed and built by Green Hammer, Tillamook Row uses Passive House standards to improve performance while lessening its environmental impact. The community features 16 townhomes in five structures. The 219 rooftop solar modules installed by Imagine Energy—an Energy Trust of Oregon trade ally—generate 98,755 kilowatt-hours of solar electricity per year.
This solar solution has an additional benefit. A solar plus battery storage system in Tillamook Row's common house serves as a resiliency center for the development in case of a power outage. Additionally "emergency power outlets" connected to individual solar arrays allow the residents to draw electricity directly from the solar electric system during a power outage while the sun is shining.
Other design highlights include an airtight building envelope that reduces the heating and cooling load by nearly 90 percent. ENERGY STAR® appliances and LED lighting in each unit help to maximize building systems and plug loads, along with hot water heat pumps and mini-split HVAC systems. Tillamook Row also features three large rain cisterns that can store up to 3,600 gallons of water, enough to irrigate the community garden and much of the property's landscaping year-round.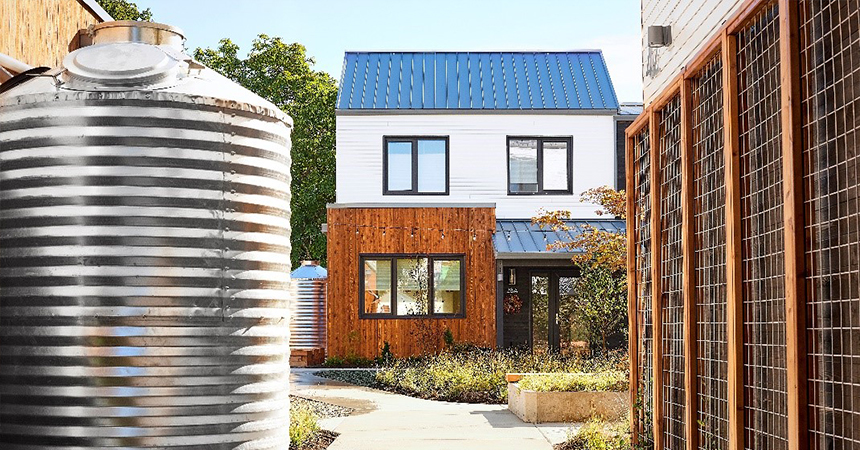 The project enrolled in Energy Trust's Path to Net Zero and received over $100,000 in incentives for its energy-saving features. Reaching its net-zero energy goals in an environmentally conscious, leading-edge design, Tillamook Row offers an exciting example for other multifamily projects to follow.
For more Path to Net Zero success stories, visit www.energytrust.org/zero.