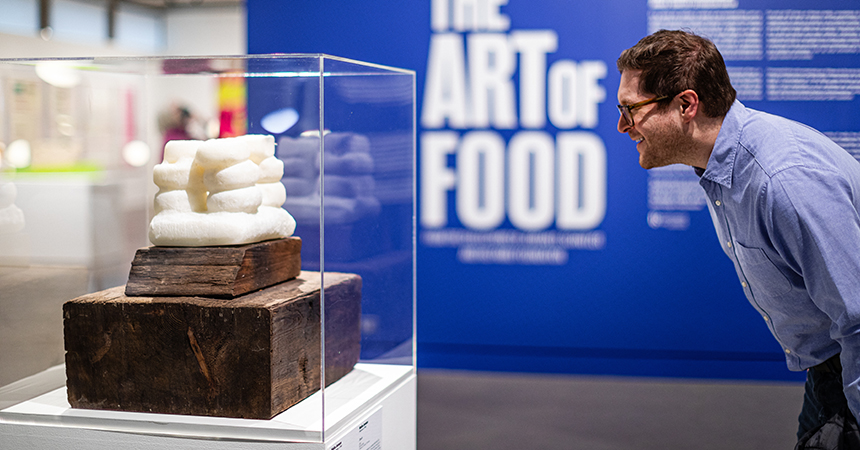 PSU's Dirk Theisen (left), mechanical systems manager, and Cary Morris (right), assistant director for operations and maintenance.
Fariborz Maseeh Hall is a five-story building at Portland State University (PSU) with lecture halls, offices and retail space. It originally dates to the late 1960s, and in 2018 PSU invested $70 million to modernize it. As part of the update, they added the Jordan Schnitzer Museum of Art—a new art museum that offers free, interdisciplinary programming in a creative and inspiring space. Shortly after the museum opened, however, museum staff noticed humidity problems that could damage the art and limited the types of exhibits they could host. 
The campus uses large, centralized chillers and boilers to heat and cool multiple campus buildings simultaneously, including Fariborz Maseeh Hall. Dirk Theisen, the mechanical systems manager at PSU who oversees the university's heating, cooling and ventilation systems, says that overall, it's a very efficient system, but it was designed to run heating and cooling year-round. In practice, they turn off the steam that produces heat in summer, and, in the winter, they let the chilled water warm since they don't need it for air conditioning.
The art exhibited in the Jordan Schnitzer Museum of Art requires temperature and humidity control, which led to running campus-wide systems to maintain the space. "We don't want to run our whole system for all of campus just for 7,500 ft2 of museum space," he said. "But we had to because we were under contract to be able to provide a consistent temperature and humidity for this space and for the art exhibits, which are worth millions of dollars." 
To address the issue, PSU installed new controls that leverage existing domestic hot water pipes used year-round to produce the small amount of heat needed to control humidity in the museum. Along with protecting their art, Theisen thinks the upgrade will also help PSU achieve some of their larger sustainability goals. "We have a sustainability office that we work closely with in our operations," Theisen said. "One of the big goals we have at the university is to become carbon neutral by 2040." 
PSU received about $31,000 in cash incentives from Energy Trust of Oregon to help cover the cost of the new controls. This covered over half of the entire cost of the project, which Theisen says means a lot to them as a state-funded institution. "We try to operate as efficiently as possible," he said. "We want to be a good steward of what we're given." The new controls are estimated to save the school an additional $51,000 a year on energy costs. 
If you'd like to learn how much you can save through energy efficiency at your facility view the current incentives or contact Energy Trust at existingbuildings@energytrust.org.