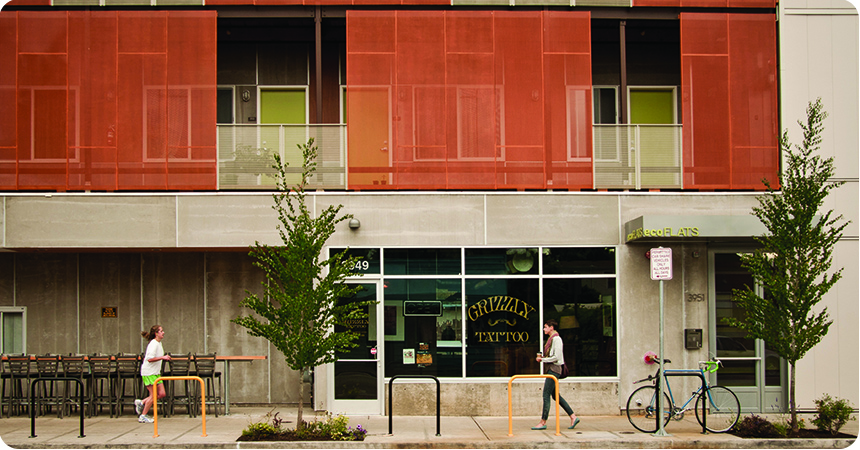 As architects and engineers create more energy-efficient buildings, occupants play an increasingly important role in ensuring the buildings save as much energy as planned. In fact, studies show that occupant behavior—such as leaving device chargers plugged in, changing the temperature set-point and turning lights on—comprises an estimated 40 percent of a building's total energy consumption. To meet the goals of constructing a building to be net-zero, building occupants must both change their habits and manage their expectations.
Erica Dunn, design team manager at Green Hammer, was awarded the Oregon Community Foundation's 2012 Van Evera Bailey Fellowship to conduct a year-long study on occupant engagement in high-performance or net-zero buildings. The study focused on a small group of buildings, including several that participated in Energy Trust of Oregon's Path to Net Zero pilot. In her research, Dunn interviewed building designers, owners and occupants and examined the various design and communication approaches used to engage building occupants. Highlights of her research include:
Education is key. Building occupants must be aware of and appreciate their built environment in order to actively meet energy-efficiency goals. Education may take many forms: building signage, energy monitors or in-person energy orientations.
Consistency is important. The most successful projects in Dunn's study had consistent design elements throughout the building, such as dimmable, occupant-controlled light switches. In buildings with switches that were all the same, occupants were far more likely to adjust or turn off lights when appropriate. In buildings where designs varied from room to room or floor to floor, occupants were less likely to use or adjust lights appropriately.
Less is more. Buildings that featured signage or displays with an overwhelming amount of information and data had fewer engaged or aware occupants. For example, the most successful display was in an entryway to an apartment building. As residents passed through the entrance, they saw a large flat screen monitor displaying the energy use of each unit in the building. A quick glance at the screen's bold red bars (high energy use) and green bars (low energy use) revealed how their energy use compared to their neighbors.