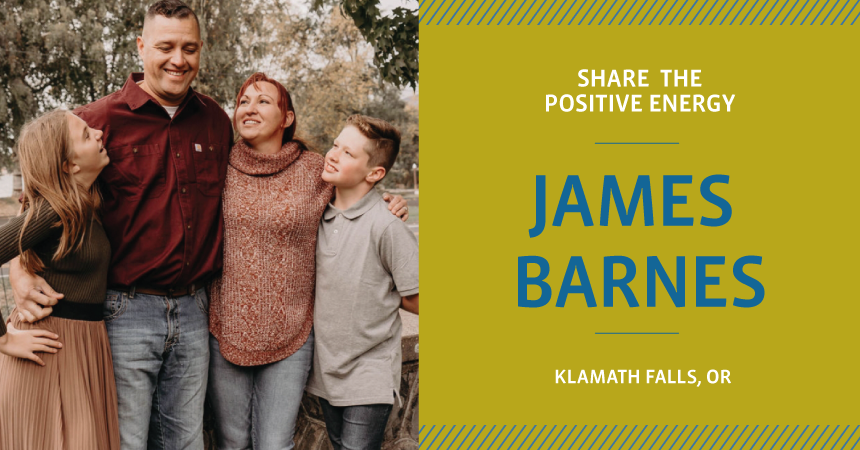 When James Barnes looked for ways to reduce energy expenses for his Klamath Falls home, Solar Within Reach increased incentives from Energy Trust of Oregon made it easy to install solar and significantly lower his electric bills.
"With a family, we really wanted to control how much we were spending on energy," James said.
Based on household income, James qualified for Solar Within Reach incentives that are much higher than Energy Trust's standard solar incentives. This made installing solar more affordable and, since the incentives were applied up front, it meant lower out-of-pocket costs.
James is a railroad worker who works hard for his money, sometimes putting in as many as 90 hours a week repairing rail lines. So it's natural that he and his wife, Chrystalynn, watch their dollars carefully.
Going solar already looked to be a good investment to James, based on family experience. A brother-in-law worked in the solar industry, and both his sister and his parents had solar on their homes.
"I could see the cost savings they have with renewable energy, and down the road I think solar helps with a home's resale value," James said. "And we do try to be more cautious about the environment."
After getting a couple of bids, James went with EcoSolar and Electric, an Energy Trust trade ally contractor.
"They were absolutely flawless. They answered all our questions, there were no gimmicks, and they got the incentives lined up for us," he said.
In addition to the Energy Trust Solar Within Reach incentives, the project also qualified for a federal tax credit and an Oregon rebate. "It brought the costs down dramatically," James said.
Now, James is enjoying ongoing savings on his bill.
"Our power bill dropped to barely anything, even in winter when we had a lot of snow," he said.
As someone who works long hours, James also appreciates the ease of solar as well as the savings.
"There's not a whole lot of maintenance – it's really simple. You don't even realize it's there," he said. "It's absolutely freaking wonderful."
Interested in going solar? Get a free, no-risk analysis and bid and learn if you qualify for Solar Within Reach increased incentives.