There's a lot to love about smart thermostats. They save energy, keep your home comfortable, and you can control them from anywhere with a user-friendly app. So how do you know which to choose? Let's compare the features of some popular options from Google Nest and ecobee.
Google Nest Learning Thermostat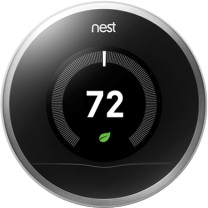 One of the best things about the Learning Thermostat is it programs itself. Just install it, use it for a week and it will create a schedule by learning your temperature preferences and habits.
This thermostat does a great job of helping you manage and control your energy costs. There's a leaf icon that lets you know when you're at a temperature that's saving energy, and it can also operate using batteries––a bonus if you're in an area prone to power outages.
If you're looking for a specific color to match your home, the Learning Thermostat is available in a variety of finishes, including stainless steel, polished steel, black, mirror black, white, brass or copper.
ecobee SmartThermostat with voice control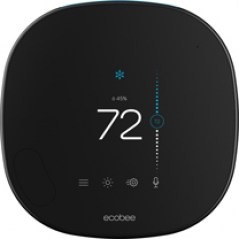 This ecobee has built-in Amazon Alexa so you can control it with your voice, right out of the box. Change the temperature, play music, call or message your family––all cool things that you wouldn't normally expect from a thermostat.
The ecobee SmartThermostat also works with wireless room sensors that can adjust temperature automatically based on occupancy. There's one included with the thermostat and you can always purchase more to place in different areas of the home.
This ecobee can also learn and adapt to your schedule to help you save energy and money.
Google Nest Thermostat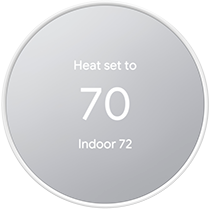 If price is a concern, the Google Nest Thermostat is a good option that provides many of the same features as the Nest Learning Thermostat, but in a more budget-friendly package. It doesn't program itself, but it does make it easy to set up an energy-saving schedule, and then adjusts automatically so you don't waste energy when you're away. It's also available in different colors.
Along with their built-in features, both Nest thermostats enable voice control when paired with the Google Home Hub, and Nest does offer room sensors that work with the Nest Learning Thermostat.
So, which thermostat is right for you? It really comes down to your specific needs and preferences. Energy Trust of Oregon provides cash-back incentives to Washington residents for the three models listed above as well as other smart thermostat models, including the Bryant Housewise Wi-Fi and the Carrier Cor Wi-Fi. After you decide which thermostat you want, remember to get your incentive and save.