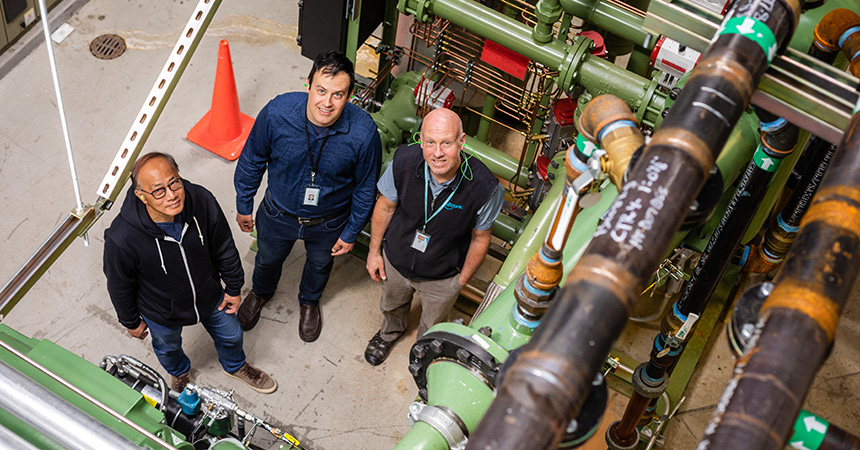 Oregon's high-tech manufacturers have embraced energy efficiency by investing in simple improvements such as lighting and HVAC. But making a commitment to a deeper, facility-wide energy savings model that relies on outside experts can be more challenging for an industry that has proprietary manufacturing practices. Energy Trust of Oregon's Strategic Energy Management (SEM) program helps technology manufacturers overcome such concerns and implement a holistic approach to energy management that streamlines systems, conserves energy and improves cost savings.
At Siltronic Corporation, a global manufacturer of silicon wafers for the semiconductor industry, the opportunity to focus on energy use at its Portland plant came along at a perfect time. The company had recently undergone a major water conservation project and was exploring a high-level plan to further reduce energy consumption.
"Reducing environmental impact is important to our company," said David Gore, VP of Technology and Engineering, Siltronic. "SEM is an appealing way to help us meet rigorous annual energy goals and save money doing so."
One of the many benefits available to SEM participants is the guidance of outside energy experts, who help with modeling, advise on SEM practices and support employee outreach.
"The thought of having people who aren't from our company come into our site raised intellectual property questions among our executive team," said Gore. "After much discussion, we realized it was a low-risk effort that would not compromise our processes and would have potential to expand our energy savings."
Michael Meseroll, Site Engineering Manager, Siltronic, was instrumental in the company's decision to participate in SEM. "I had previous experience with SEM and was confident it would be a good fit here," he said. "Because we consume significant amounts of energy and water, we all need to be more aware of the resources we're using."
Another key component of SEM is to engage employees in finding energy-saving opportunities. Siltronic brought a large, cross-departmental group together in a one-day event to scour the facility for energy savings. By the end of the facility search, employees identified nearly 250 areas of potential improvement.
Some of the ideas could be acted on immediately, like turning off idle equipment. Some were short term like finding and fixing air leaks. Others were longer term projects that required engineering resources and monetary investment, like changes to the sequencing of the wafer cleaning process that eliminated the need for hot water cleaning, saving electricity used to heat the water. Huge savings were found in the house vacuum system, which was running around the clock whether it was needed or not. Controls now turn the system off when not in use and restart with the push of a button.
Strong support from leadership, as well as the high-level of collaboration from employees, ultimately led to the company's success in exceeding its goals. By the end of its first year in SEM, Siltronic implemented nearly 40 high-value projects, resulting in estimated annual energy cost savings of $82,600. Plus, Energy Trust provided cash incentives of $55,000 towards the company's SEM participation and energy-saving improvements.
"It has been great to have this type of collaboration with Energy Trust," said Gore. "We tend to tackle challenges like this with internal resources, so this is something we haven't done before. We're very pleased it has been so successful."
To learn more about SEM visit our website or call 1.866.605.1676