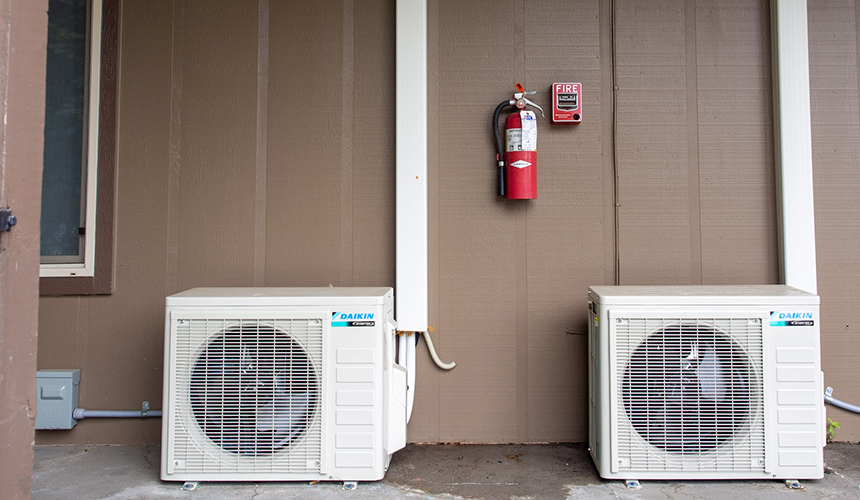 Josh Sargent prides himself on having well-maintained buildings. The mission of his family business, where he serves as the portfolio manager focused on capital improvements, is to upgrade buildings built primarily in the 1960s and 1970s to be more sustainable and operational. For Sargent, energy efficiency is core to this mission.
After Sargent's family bought Cedar Crest in 2015 and Upland Terrace in 2017, both originally constructed in the 1970's, they quickly installed insulation at both properties and new efficient windows at Upland Terrace with the help of Energy Trust of Oregon cash incentives.
During the summer of 2021 temperatures reached a record high and Sargent started to feel that it was "unreasonable to rent apartments without air conditioning in Oregon." Sargent decided it was time to make additional energy-efficient upgrades and contacted Energy Trust for help. Electric bills dropped "immediately and dramatically" once Sargent installed 69 ductless heat pumps (DHPs) across apartments at Cedar Crest and Upland Terrace. Sargent received approximately $55,200 in cash incentives to help reduce the cost of installing energy-efficient DHPs at both properties.
Following these upgrades, residents at Cedar Crest and Upland Terrace noticed their energy bills decrease significantly. "Resident's monthly electric bills were much cheaper, which in the apartments we run [which are] lower income to lower middle income, even a small reduction matters a lot," Sargent noted. The ductless heat pump upgrades will save the residents at both properties an estimated $11,500 combined on annual utility bills.
Sargent has received nothing but positive feedback from residents. "Residents have commented on how much more comfortable their apartments are since the new ductless heat pumps were installed and any energy savings, we can provide to our residents is huge to them." The apartments are quieter, and residents have a much higher quality of living. "We have tenants with disabilities like COPD. Things like this really improve their lives."
To other property owners contemplating working with Energy Trust on property improvements, Sargent says "it's really easy, much easier than you think it is, and everyone at Energy Trust is incredibly helpful and will make it work for you."
For more information on multifamily property upgrades, call 1.877.510.2130, email multifamily@energytrust.org or visit www.energytrust.org/multifamily.