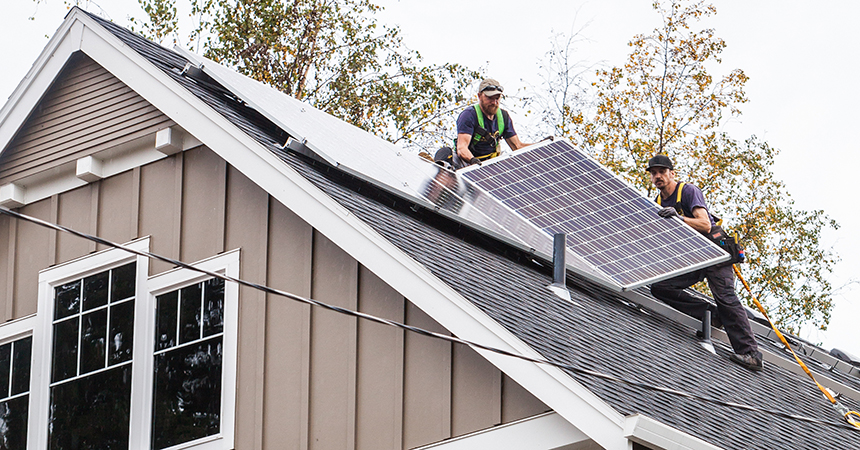 2017 was a big year for Oregonians installing solar panels. Energy Trust received more applications than ever before, including applications for over 150 commercial projects and more than 2,000 residential projects. The number of applications went up 50 percent compared to 2016. These projects—along with 10,000 more supported by Energy Trust over the last 15 years—helped us achieve more than 100 megawatts of solar installations at Oregon homes and businesses since 2002.
State energy tax incentives expired at the end of 2017, increasing the cost of installing a solar system in Oregon. However, Energy Trust incentives continue to be available for residential and business customers installing solar systems.
In 2018, $6 million will be available from Energy Trust to support solar projects. An average rooftop installation on a home now qualifies for an incentive of about $3,500—more than double what we offered at the end of 2017. This won't fill the gap left by the expired tax credits, but it will take a bigger bite out of the upfront cost of going solar. Because Energy Trust's residential cash incentives are applied at the time of purchase, they give an extra boost to people with less access to cash or credit.
Also in 2018, Energy Trust announced new incentives for commercial, public and nonprofit customers. Public and nonprofit customers can also apply for competitive funding from Portland General Electric's Renewable Development Fund or Pacific Power's Blue SkySM program. This year, Energy Trust will provide additional support to help customers apply for these funds and design solar projects.
In addition to offering cash incentives for solar installations, Energy Trust works to educate and empower the solar customers who receive our incentives. We provide education on the process of buying and installing solar panels, including information on system performance and longevity, contractor installation standards, safety, privacy and transparency.
We help customers make smart purchasing decisions. Our online solar bid request form makes it easy to connect potential customers with solar contractors from our Trade Ally Network, ensuring customers receive multiple customized bids to compare before making a decision. In 2017, we helped over 2,000 customers connect with top-rated trade ally contractors.
By using contractors from Energy Trust's network, customers work with companies monitored by Energy Trust for their performance and business credentials. Systems must meet Energy Trust's rigorous Solar Electric Installation Requirements, which exceed manufacturer and code requirements and are considered an industry gold standard. Energy Trust reviews all equipment and system designs to prevent errors before construction, and we conduct site visits to most projects for post-installation verification.
To request a bid from a local solar installer, go to www.energytrust.org/solarbid.