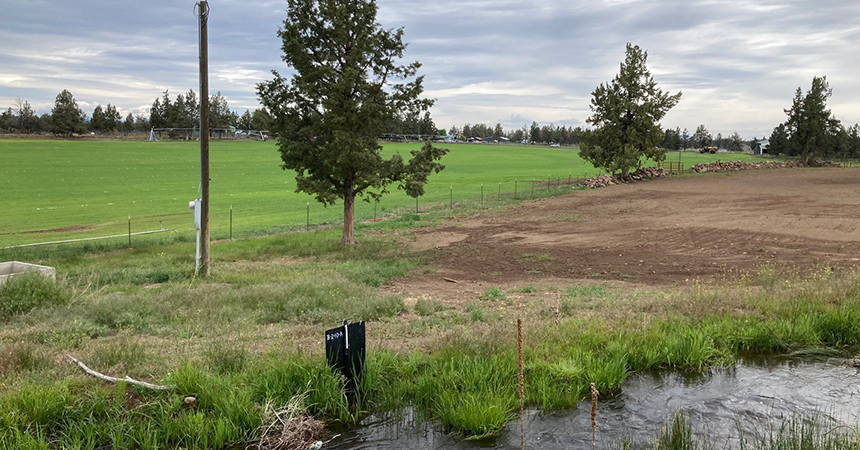 Hans and Teri Rohne, owners of Trinity Ranch in Redmond, strive to make the best use of the 34 acres they have available to raise cattle. Most of the ranch has good, tillable land, suitable for growing hay and grass. But the four acres with porous, volcanic soil wasn't able to support forage growth until Hans made some changes. He seeded the area with a special planting mix of kale, turnips and grasses that produce four tons of forage per acre. When his cattle are done grazing the mix leaves behind a dense root structure that very slowly decays into high-organic soil. "I'm basically growing dirt, but it will take a few years," said Rohne. To support growth of this planting mix, Hans worked with Energy Trust of Oregon to replace the area's existing handline and flood irrigation with an efficient pod irrigation system that delivers water slowly and more consistently.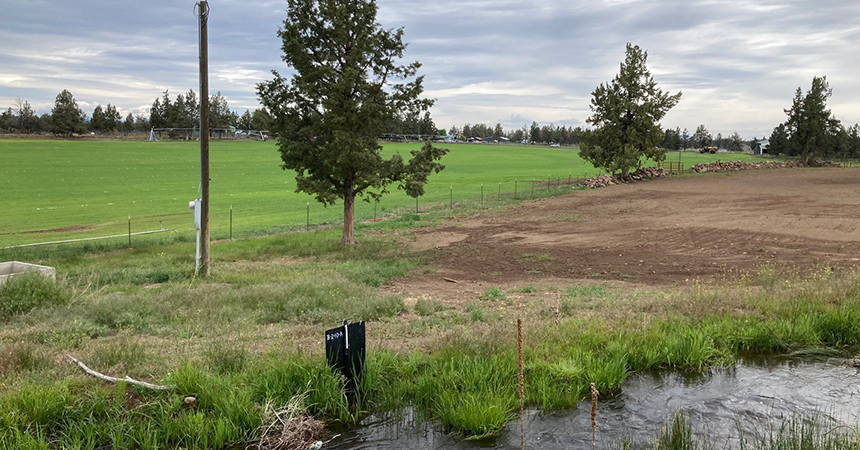 Photo courtesy of Hans Rohne, Trinity Ranch
"My irrigation water now flows through 1.25-inch diameter plastic pipe to 1-foot diameter pods that spray water as far as 50 feet," said Rohne. The pod irrigation maximizes plant absorption and has higher application efficiency—requiring less pressure to operate, saving pump energy and conserving water. But the advantages don't stop there.
"Pod irrigation is highly durable," said Rohne. "Cattle can't crush the plastic lines, like with aluminum pipe. I can drive over the lines with my tractor. The pod has a protective shell that's visible from the tractor and can't be harmed by cattle." The lines also are easy to move, allowing Rohne to drag 300-foot lengths to a new location using his quad vehicle.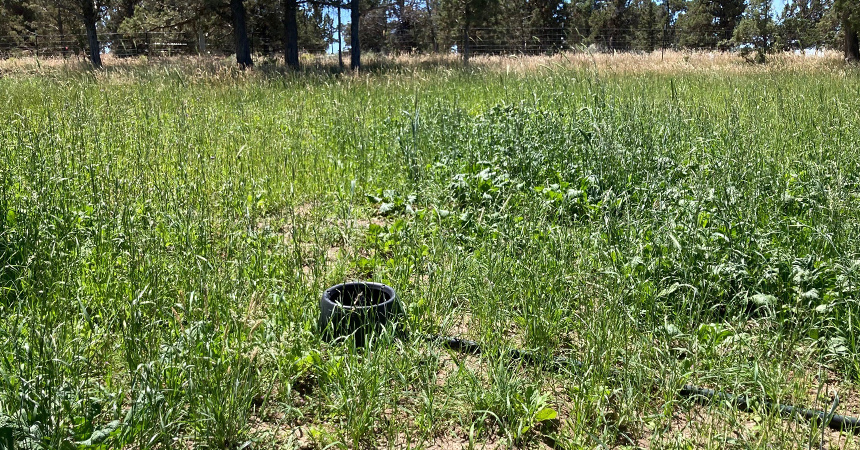 Photo courtesy of Hans Rohne, Trinity Ranch. Durable and efficient pod irrigation at Trinity Ranch.
Before installing the pod irrigation, Rohne worked closely with both the Oregon Department of Energy and Energy Trust of Oregon. He received a free, on-farm energy assessment that outlined all the ways he could curb energy use at Trinity Ranch—from irrigation efficiency to solar. ODOE arranged for the assessment and paid 75% of the cost through Renewable Energy Development Assistance grant money it receives from the U.S. Department of Agriculture. The assessments are available to rural small businesses and agricultural producers across Oregon.
Energy Trust reimbursed Rohne for the balance of the energy assessment's cost. Rohne also received an Energy Trust cash incentive of $1,638 to help offset the cost of his pod irrigation system, which came in at $4,050.
"This project has helped me turn a worthless plot of land into a productive resource," said Rohne. "It makes better use of my irrigation allotment and helps me prepare for the future, when water rights become more restrictive."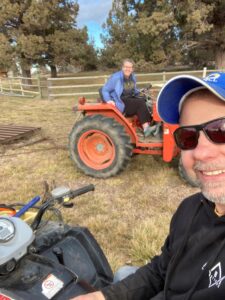 Thanks to his energy assessment, Rohne is considering other energy-efficiency improvements to Trinity Ranch, such as installing a variable frequency drive on his irrigation pump. "Energy Trust also suggested installing a solar farm on two acres that simply aren't usable," said Rohne. "Who knows, maybe I'll eventually have an electric tractor powered by the sun. My goal is look for cost effective improvements that help me be a wise steward of my land."
Learn more about energy-efficient options for your ranch and start saving for years to come.
Learn more about grant opportunities from the Oregon Department of Energy
Photo courtesy of Hans Rohne, Trinity Ranch. Teri and Hans Rohne "at their first board meeting".