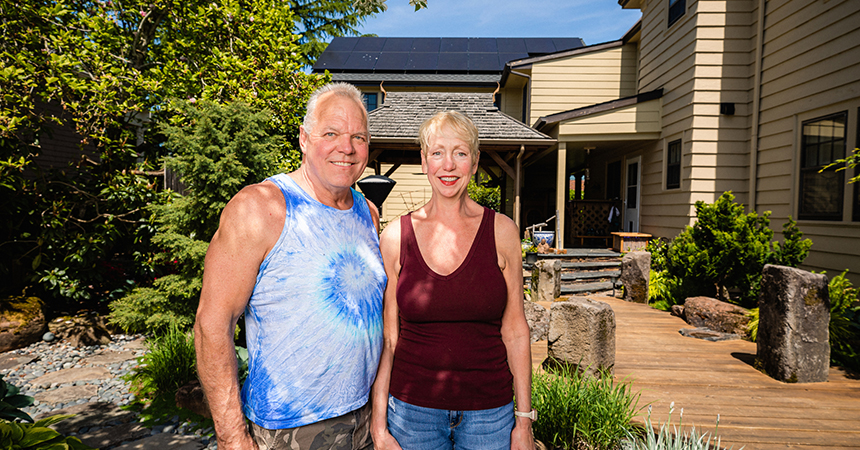 Energy Trust and Portland General Electric have teamed up to investigate how smart inverters on individual homes can help create a smarter, more resilient electrical grid.
An inverter plays an important part in solar energy installations, converting direct current power from solar panels to alternating current, the kind of electricity used in a home. Now, the PGE Smart Solar Study is looking at how customer-owned smart inverters serve an even bigger role, helping to better manage the grid and shape Oregon's clean energy future.
"We aim to assess how PGE can optimize the grid's capabilities by using smart solar inverters to their fullest potential, providing a more efficient, resilient grid for our customers and making it possible to continue to add more renewable energy to our system," said Matthew Mills, technical program manager, PGE.
Smart inverters already communicate with the grid to disconnect a solar system if there is a power outage or other problem. This study allows PGE to explore how smart inverters can be used to improve power quality—minimizing voltage irregularities—and help make the whole grid more efficient.
In 2022, Energy Trust began working with PGE on the Smart Solar Study, part of the PGE Smart Grid Test Bed. The demonstration project is now recruiting qualifying participants.
Homeowners with solar panels and qualifying smart inverters in designated North Portland, Hillsboro and South Salem test bed areas are eligible to participate in the study. They will receive $250 for signing up and a monthly $10 credit on their electric bill while they are enrolled in the study. The study runs through December 2024.
"We're excited to work with PGE on this innovative project," said Jeni Hall, Advanced Solar program manager for Energy Trust, who explained how Energy Trust helped identify both the smart inverter technology that will best serve the study and the areas where there are enough homes with existing solar to fit the study's criteria. "If homeowners can benefit from their renewable energy projects through lower monthly bills and those systems can also help utilities operate the grid more efficiently, then we're all working together to build a clean energy future."
Do you have solar power? See if you qualify for PGE Smart Solar Study. Interested in going solar? Request a free analysis and bid.