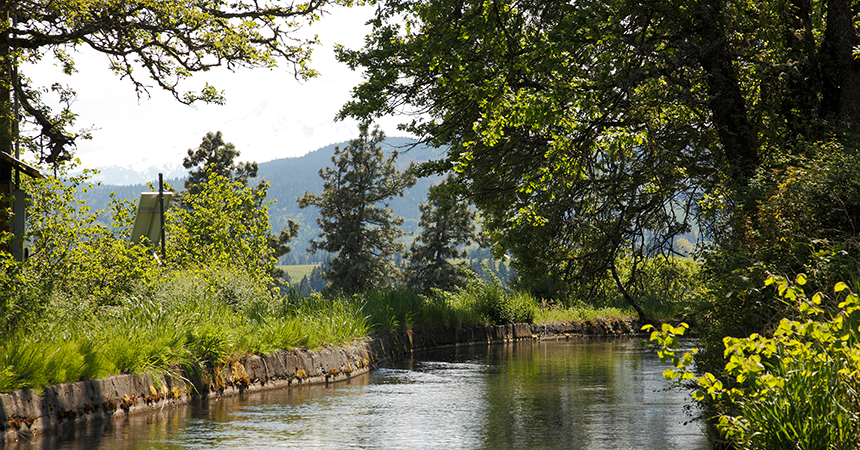 The Oregon Legislature is making a significant new investment to help farmers, ranchers and agricultural communities save water and unlock opportunities to generate clean energy.
In the most recent state budget, lawmakers directed $50 million toward upgrading Oregon's outdated irrigation systems, which carry water to farms across the state. This funding will allow irrigation districts that oversee water management and its distribution in specific regions to make the most of existing federal funding for water infrastructure projects.
In Oregon, 73 irrigation districts serve thousands of farmers and nearly 480,000 acres. However, most manage water infrastructure installed 75 to 150 years ago. Existing systems, which are primarily made up of canals and ditches, can lose as much as 40-60% of the water they carry to evaporation and seepage. This leads to shorter irrigation seasons for rural communities already coping with drought. 
Once modernized, water will be delivered to farms through pipes, creating more consistent water access for irrigation district farming communities. Modernized irrigation districts cost less to operate and maintain, and upgraded irrigation systems use water more efficiently and leave more water in streams for fish and wildlife. 
Upgrades can also support renewable energy: Gravity is used to convey water in pipes, and the resulting flow and pressure create the potential to support small hydropower generation systems.
"These funds will give the state a huge competitive advantage in unlocking hundreds of millions of dollars in federal conservation dollars," said Julie O'Shea, executive director of the Farmers Conservation Alliance. "Our irrigation district partners have shovel-ready projects that have been waiting for this kind of opportunity." 
Energy Trust supports irrigation district modernization by employing the expertise of the Farmers Conservation Alliance to complete technical studies and assessments for the districts, culminating in System Improvement Plans and the ability to leverage significant state and federal funding for piping.
"This work sets up Oregon irrigation districts, farmers and rural communities for long-term stability," said Dave Moldal, senior program manager of renewable energy at Energy Trust. "It also creates opportunities for generating hydropower, opening up new revenue streams for districts and farmers." 
For irrigation districts to access this state funding, they must also be approved for funding from one of three federal programs: the Natural Resources Conservation Service Watershed and Flood Prevention Operations, the Bureau of Reclamation WaterSMART, or the Environmental Protection Agency Community Grants.
Find more information about irrigation modernization and incentives available through Energy Trust at www.energytrust.org/renewable-energy/irrigation-modernization.