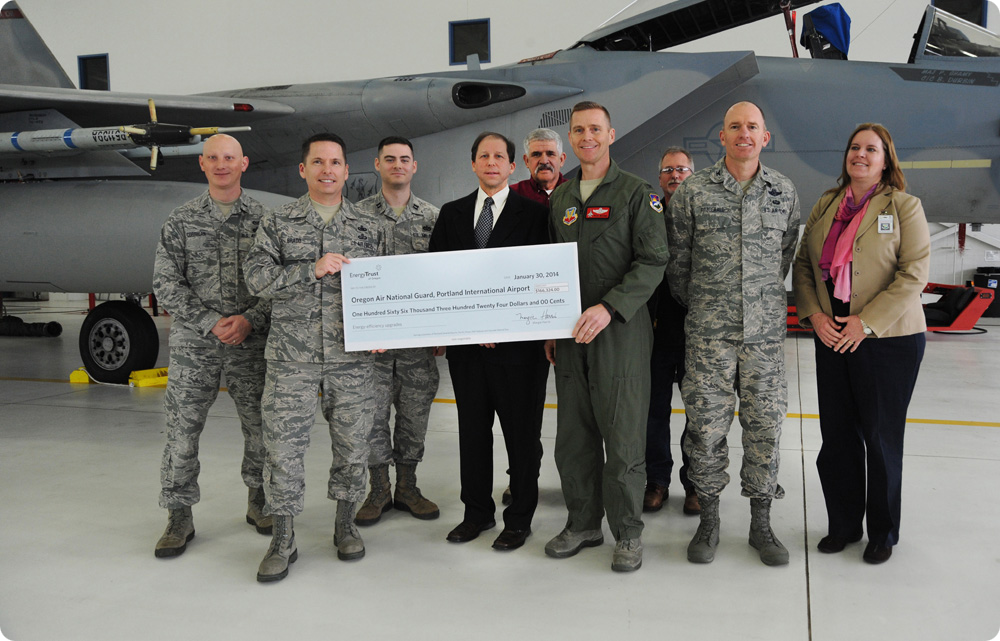 Energy Trust of Oregon recently supported energy-efficiency investments at two federal agencies, the U.S General Services Administration and the Oregon Air National Guard, minimizing environmental impact, reducing operating costs and saving taxpayer dollars.
In January, Margie Harris, executive director of Energy Trust, presented the U.S. General Services Administration with a check for $445,000 for the government's extensive use of energy-saving measures in its $150 million development of the Edith Green-Wendell Wyatt Federal Building in Portland, which recently reopened to agencies such as the Internal Revenue Services. Energy Trust provides technical resources and cash incentives to encourage cost-saving energy improvements on new and existing buildings served by Portland General Electric, Pacific Power, NW Natural and Cascade Natural Gas.
"The Edith Green-Wendell Wyatt Federal Building showcases innovation in energy efficiency and solar generation. General Services Administration and the entire project team have provided the community with a building that uniquely balances energy conservation with improved tenant and visitor experiences," said Harris. "Energy Trust is pleased to have been a part of this effort from concept to completion."
The Edith Green-Wendell Wyatt Federal Building is on track to reduce its energy use by approximately one-half, saving approximately $300,000 to $400,000 in energy operating costs annually. Achieving Leadership in Energy and Environmental Design, LEED®, Platinum by the U.S. Green Building Council and one of Energy Trust's first Path to Net Zero projects, the building features radiant cooling and heating, exterior shading and a rooftop solar electric system that also includes a rainwater collection system for irrigation and gray-water use.
"We are committed to building green to help reduce the federal government's energy and water use thereby reducing operation costs and ultimately saving money on behalf of the taxpayer," said George Northcroft, regional administrator, U.S. General Services Administration.
In February, Peter West, director of energy programs for Energy Trust, presented an incentive check for $166,324 to the Oregon Air National Guard for work with Energy Trust for implementing energy-efficient lighting projects throughout the base. The lighting-specific project is estimated to save more than a million kilowatt hours of electricity in the next 17 years—paying off the investment cost through energy savings in about six years.
According to Col. Rick Wedan, the 142nd Fighter Wing commander, the Oregon Air National Guard's energy-efficiency upgrades, which included changing lighting in more than 1,000 fixtures, are already paying off: "In 2013 we [Portland Air National Guard Base] spent over half million dollars in electricity at this base, yet we saved more than $60,000 through the upgrades we accomplished. Over 385 tons of carbon dioxide emissions were reduced in 2013 as well."
"These two projects represent investment and collaboration of multiple organizations to achieve outstanding energy efficiency and innovation—resulting in significant energy and cost savings for Oregonians," said Harris.