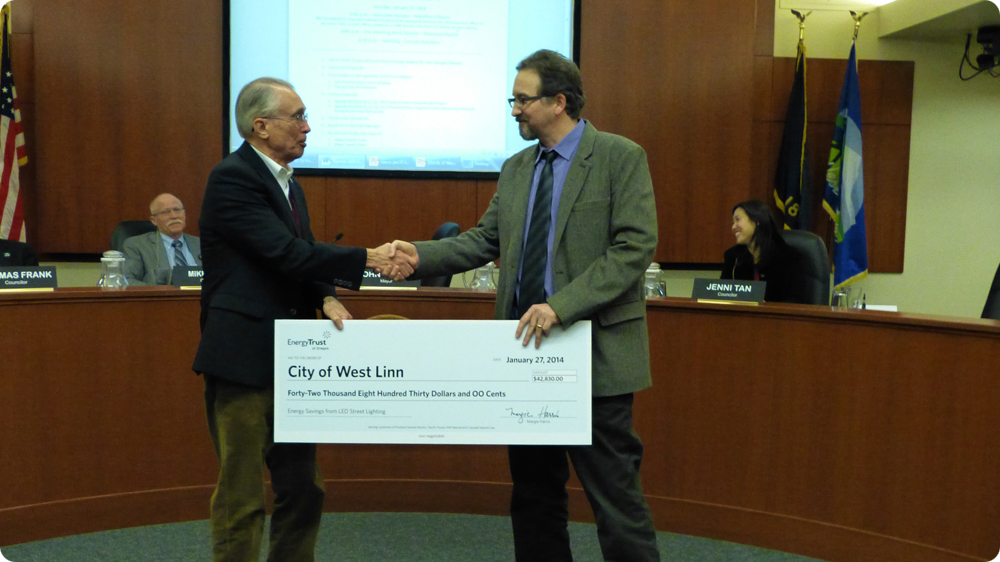 This winter, the City of West Linn is taking energy efficiency to the streets. The city collaborated with Portland General Electric to change more than 900 cobra head streetlights from high-pressure sodium to LEDs—saving approximately $20,000 a year in electricity costs.
Because LEDs use 60-70 percent less electricity than conventional bulbs, converting to LED streetlights is a great way for communities to save energy and money. Other benefits of LEDs include better lighting quality—the white light they give off is truer to daylight and it improves nighttime visibility. LED lamps last four times longer than traditional high-pressure sodium streetlights, so maintenance crews won't need to replace them as often.
Energy Trust presented the City of West Linn with $42,830 in cash incentives for completing the LED streetlight conversion project. The project is expected to improve visibility for residents while saving enough energy to power 35 homes for a year.
Cash incentives are one of many resources Energy Trust offers to help governments, businesses and residents save energy and money. Find out how LEDs can benefit your home or business.