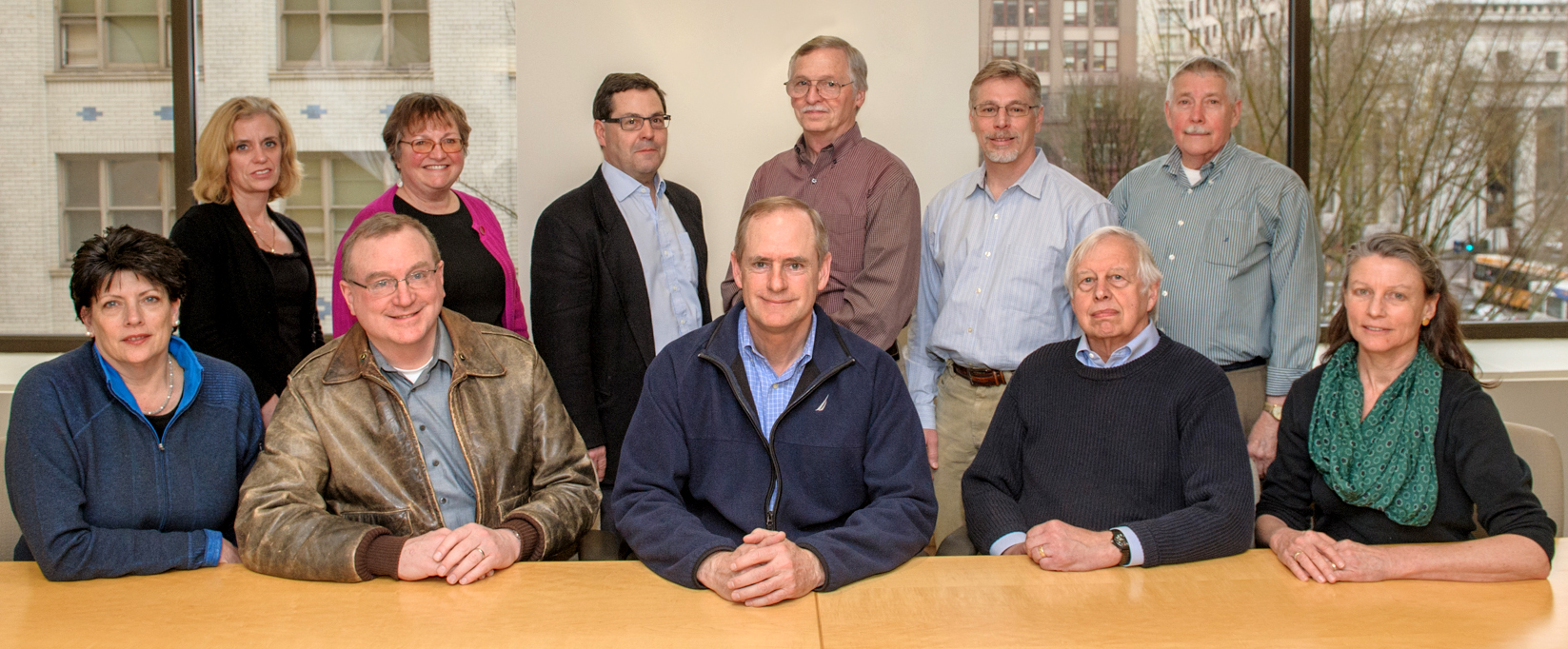 Energy Trust recently added four new members to its board of directors and elected four members to leadership positions for 2013. Drawn from communities around the state, Energy Trust directors represent a broad spectrum of expertise from the private sector and public institutions. Board members, all volunteers, provide strategic and policy direction for the nonprofit, and approve the organization's annual budget and major expenditures.
Members recently named to Energy Trust's board include Anne Warrington Donnelly, a nonprofit executive from Coos Bay; Anne Haworth-Root, an entrepreneur and agribusiness leader from Medford; Dave Slavensky, a manufacturer from Bend; and Mark Kendall, an energy consultancy owner from Salem.
John Reynolds, a professor of architecture emeritus at the University of Oregon and a Eugene resident, was re-elected to a sixth term as president. A founding board member, John has helped guide the organization since its inception more than 11 years ago. He was first named president in 2008 and served as vice president from 2005-2007.
Debbie Kitchin, owner of InterWorks, LLC, a Portland construction company, is serving her second term as vice president. Debbie was recently interviewed by the Sustainable Business Oregon on her board role. Alan Meyer, a Salem resident and director of energy management for Weyerhaeuser Company, was newly elected as secretary. Serving his second full term as treasurer is Dan Enloe, a Washington County resident and supply chain manager at Intel Corporation in Hillsboro.
Other members currently serving on Energy Trust's board include Rick Applegate, Applegate Consulting, Portland; Julie Brandis, Oregon State University Foundation, Corvallis; Ken Canon, Canon and Hutton law firm, Myrtle Creek; Roger Hamilton, Western Grid Group, Eugene; and Jeff King, Northwest Power and Conservation Council (retired), Portland. Representatives from the Oregon Public Utility Commission and the Oregon Department of Energy serve as non-voting board members. Nine of the 13 voting board members are from outside the Portland region.
Read more about Energy Trust's board members.
Energy Trust 2013 board members clockwise from top to bottom: Julie Brandis, Vice President Debbie Kitchin, Mark Kendall, Secretary Alan Meyer, Dave Slavensky, President John Reynolds, Anne Warrington Donnelly, Jeff King, Ken Canon, Treasurer Dan Enloe and Anne Haworth-Root. Not pictured: Rick Applegate and Roger Hamilton.