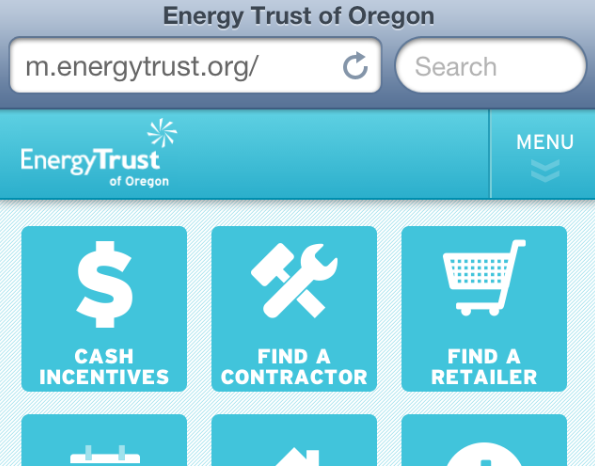 The digital face of Energy Trust has been given a makeover that makes it easier to navigate on smartphones. The slimmed-down mobile version of the website provides easy access to the online content most popular with customers—details about cash incentives for businesses and homeowners and tools like the Find A Contractor trade ally search.
The decision to create a mobile-optimized version of the Energy Trust website follows a significant increase in mobile web visitors to www.energytrust.org, a number that has more than doubled in the last year and now accounts for about 25 percent of all traffic on the site. That percentage is in line with national trends in mobile browsing and is only expected to grow alongside the continued increase in consumer adoption of mobile technology, with some analysts predicting that mobile web browsing will overtake desktop browsing as soon as 2014.
Establishing a mobile-optimized website enables Energy Trust to grow with that demand. One feature of the desktop site that could be a candidate for future mobile expansion is online forms, which are quickly becoming the preferred incentive application method for many of our customers. Having a mobile site also allows the organization to create mobile-optimized web pages for offerings being advertised or promoted via email or online media.
To get a look at the new mobile website, simply visit the Energy Trust website on your smartphone.