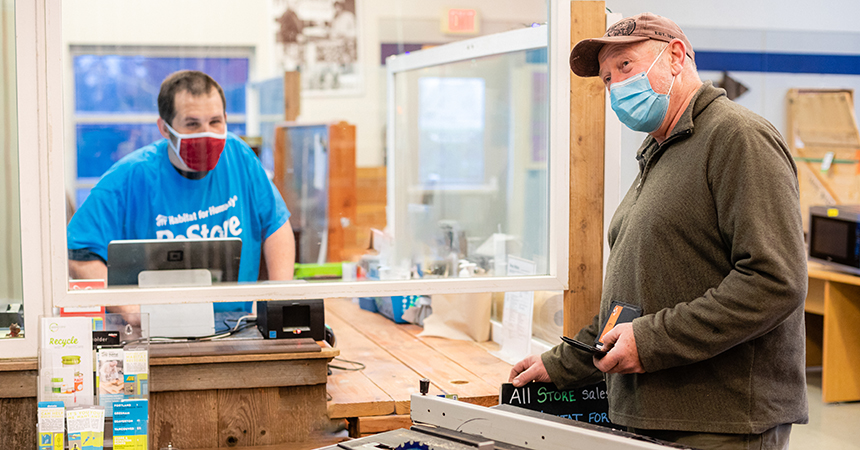 Habitat for Humanity is a global nonprofit that works with local volunteers across all 50 states and in 70 countries to build a world in which everyone has a place to call home. Their independently operated ReStores raise money for Habitat for Humanity projects by selling donated household items, furniture and building materials at a fraction of the retail cost. This provides the community with materials to construct and improve homes and buildings, and it keeps the high-quality materials out of landfills.
Decreasing waste is a big part of Habitat for Humanity's mission and ReStores aim to be as environmentally friendly as possible. To that end, management of the Vancouver area ReStore collaborated with their building owner and NW Natural customer, HSP Properties, to improve the energy efficiency of their building. With the help of Energy Trust of Oregon, HSP Properties received cash incentives made possible by NW Natural customers for new, energy-efficient insulation.
"Because ReStore has a lot of employees and customers in that space, we wanted to help keep the space warm in the winter and cool in the summer," says Josh Olivia, a project manager at HSP Properties. "The cash incentive we got from Energy Trust made that possible."
In total, they received $35,000 in incentives to install 17,500 square feet of high-efficiency  insulation and make roof updates. The incentives covered over half of the entire cost of the project and it's estimated to save the ReStore another $9,100 in annual energy costs.
Julie Carter is vice president of retail operations overseeing the operation of four ReStore locations in the Portland/Vancouver area. She says that updates to the Vancouver location are also helping to keep the store open during the recent record heat.
"We actually closed a couple of our stores in the heat because we don't have central air conditioning in most of our stores," says Carter. "Without air leaks, we're able to keep the store cooler, for longer by capturing the cool air we bring in at night. It's definitely a big help."
ReStores are self-funded nonprofits that must keep their expenses as low as possible. By lowering energy and maintenance costs, more of the money a ReStore makes can go to building and renovating local homes for community members in need.
"We help bring in the money that is used to build homes," says Carter. "ReStores exist to help fund the main arm that builds affordable homes for people in our community."
In overseeing the operation of multiple ReStore locations, Carter manages the truck fleet, solves any facility maintenance issues that arise, and keeps the stores running smoothly. So, she knows how utility bills affect store operating expenses.
"Utility bills are some of the bigger expenses we incur," she says. "Every little bit of savings is crucial to us."
While their dedication to reducing waste and improving sustainability encouraged ReStore management to look for cost-saving building updates, ReStore management cites other benefits, too. ReStore Store Manager Thom Woitas says the new roof and insulation do a better job of keeping the space dry.
"In the past, some merchandise has been damaged by water leaks, but we don't have to worry about that anymore," he says.
To learn more about incentives for energy-efficient insulation and more, visit the Energy Trust commercial incentives page.