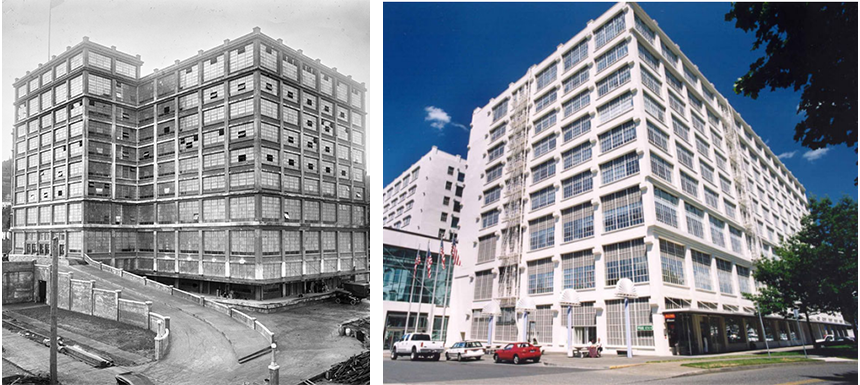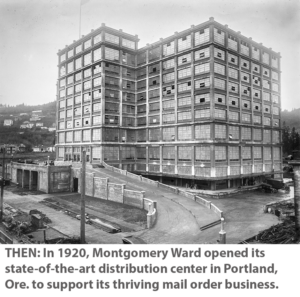 Montgomery Park is the second largest office building in Portland, Oregon, and working toward a first—an ENERGY STAR® building efficiency rating of 100 by its hundredth anniversary in 2020.
The 850,540-square-foot building was built as the state-of-the-art warehouse for Montgomery Ward's mail order business, and was named to the National Register of Historic Places in 1985. Now, the commercial building houses approximately 26 tenants with about 3,000 people occupying the building during an average workday. Tim Hendricks, Montgomery Park's facilities director, made it his priority to boost management's bottom line and pass on utility cost savings to tenants through energy-efficiency upgrades.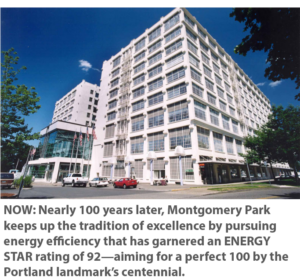 Montgomery Park started the journey to a perfect ENERGY STAR rating in 2007, using utility bills from that year as a baseline while the facilities team researched energy-saving opportunities. In 2008, Montgomery Park began working with Energy Trust to conduct an energy study which identified opportunities for energy savings and available cash incentives. Over the next few years, Montgomery Park improved their office environment and ENERGY STAR score with numerous projects. First, a lighting upgrade was completed throughout the entire building, adding occupancy sensors and replacing fluorescent tubes with more efficient bulbs which lowered the wattage by 50 percent without reducing light output. Montgomery Park then focused on the outside by upgrading lighting controls for lights in the east garage, which reduced that building's energy consumption by 50 percent. Thanks to long-lasting new bulbs, Montgomery Park has reduced maintenance time. "That means the engineers can look for new energy-saving measures," said Hendricks.
Lighting upgrades helped increase the building's ENERGY STAR score, but the facilities team wanted to do more to get closer to 100. Through bill savings from the lighting upgrades and Energy Trust cash incentives, Montgomery Park was able to overhaul the building's HVAC system with no additional capital expenditures. An engineering study recommended replacing aging infrastructure equipment with two new cooling towers and heat exchangers with 25 percent greater capacity, and adding two, 100 –horsepower VFD-controlled condenser pumps. As a result of the building control and HVAC upgrades facilities staff can now turn off non-essential HVAC units when the building is closed or when a suite is not occupied.
"Energy Trust has done a really good job over the years to incentivize energy projects. Incentives are easier to obtain, and they tailor the incentives to projects that make sense," Hendricks explained. "Every project we've done has exceeded the estimated savings." With Energy Trust incentives totaling $426,000, Montgomery Park completed numerous projects that paid for themselves after just a few years. Since 2010, Hendricks said that "energy consumption has dropped from an average 1.3 million kWh per month to 0.9 million kWh—a 33 percent decrease."
Montgomery Park is saving an estimated 2,475,000 kWh annually and calculates, "an annual cost savings of $418,000." Hendricks said, "Energy efficiency has absolutely been a factor in obtaining and maintaining tenants. Keeping tenants happy is less expensive than looking to re-tenant the space." Montgomery Park's current ENERGY STAR score of 92 helps them market to businesses looking to lease space. To help get to that perfect score of 100, Montgomery Park is working with Energy Trust of Oregon trade ally Imagine Energy to construct a 1-megawatt solar installation.