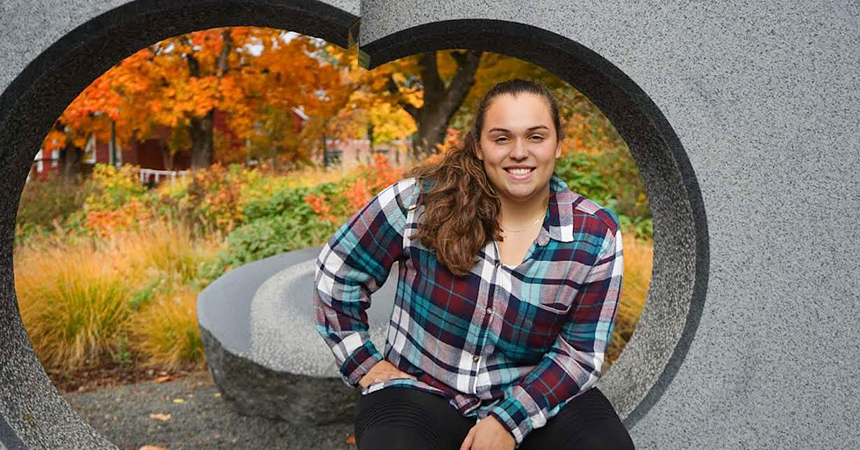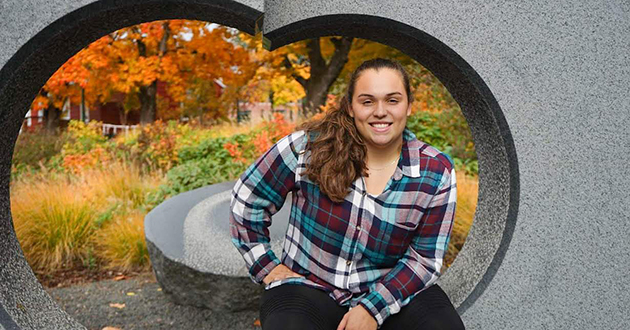 Mia Kalatzes joined Green Hammer Design Build in Portland as part of Energy Trust of Oregon's Net Zero Emerging Leaders internship grant program, from January to March of 2022. It was there that she was first immersed in sustainable design-build practices, including helping to develop processes for measuring and documenting embodied carbon in built environments. After completing her architecture degree from the University of Oregon, she's now an architectural designer at Studio.e in Eugene and will be passing along her learnings as a mentor to the firm's Net Zero Emerging Leader intern this year.
Q: What inspired you to pursue architecture as a profession?
I was originally a fine arts major, but saw that architecture also involves a lot of creativity and could give me more flexibility. It's a professional degree that shows you're willing to self-educate and be curious.
In high school, I didn't even think I'd be able to go to college. In ninth grade I moved into my eighth-grade AVID1 teacher's house. She really helped get me through high school and encouraged me to apply to college. University of Oregon (UO) has a Pathway Scholarship program
Q: That's really inspiring — both your determination and your teacher's mentorship.
Her name is Laura Queirolo and I call her Mom Q. She was my first mentor. I am dyslexic and didn't have support for that in my earlier education, so I had a lot of catching up to do before college. At UO it took me over a year to get my bearings and feel confident. I had to spend more time on assignments than other students. But Mom Q and other mentors like my college academic advisor, Celena Simpson, helped me stick it out and learn to adapt. To get to the other side of that was very empowering.
It was my professor in Passive House, Alison Kwok, who got me interested in the science side of design and building. She pushed me to apply for the Net Zero internship. I was happy to be invited to do this interview because Energy Trust played a big role in opening doors for me, educationally and professionally.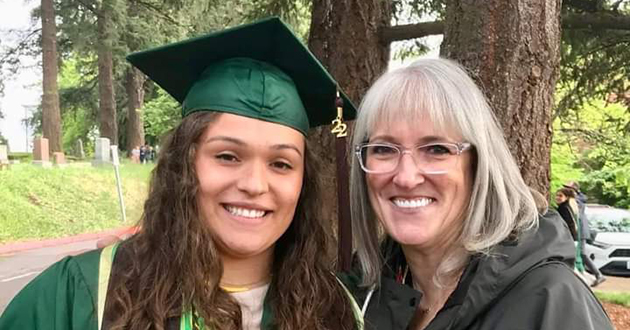 Q: What insights did you gain during your Energy Trust Net Zero internship at Green Hammer?
It was great to be introduced to the inner workings of a firm from both the design side and the realities of the buildout side. Being part of a collaborative team with strong sustainability goals is really reflected in their production as a firm.
Diving into the nitty gritty details of energy modeling and all its complexities I realized that even with amazing tools, we can't yet dial every aspect of a building down to an exact number. It's getting better, but there are so many variables to consider, if you're aiming to be completely accurate. And those variables can change at any given time.
Q: What's it like to be working full-time at a small firm that prioritizes sustainability?
It's encouraging. Studio.e's smaller size has given me exposure to all aspects of the business process. I'm already able to interact directly with clients, engineers and contractors. Our firm has grown from five to eight people, and we pass work back and forth, which is fun and collaborative. Studio.e and Green Hammer are similar in terms of ethics and sustainability goals. Everyone has a voice on their teams, and I admire that.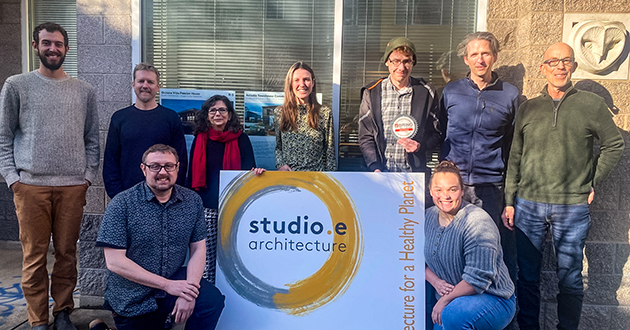 Q: What would you say to kids or young adults who are unsure about continuing their education after high school?
I empathize with them, for sure. I think it's important to seek out people you admire and ask them for advice along the way. Networking really helped me get to where I am.
And if you just keep exposing yourself to new things and seeing what clicks, a whole new world can open up. Keep pushing even if something is challenging; the results can be positive, and at the very least will help you grow.
Q: What are the current challenges in your work?
Buildings have historically been one of the biggest energy drains, and I want my designs to challenge that norm by designing spaces that are more efficient, durable and live longer, where communities are saving money on energy costs and updates. These are things that should be justified with upfront costs.
Q: What excites you about the future of architecture?
Building science has improved. My boss tells me they didn't talk about it as much when he was in school. It was refreshing at UO that it was such a focus. Hopefully, other architecture schools are teaching the same things I learned about sustainability so we can keep pushing the boundaries of efficiency.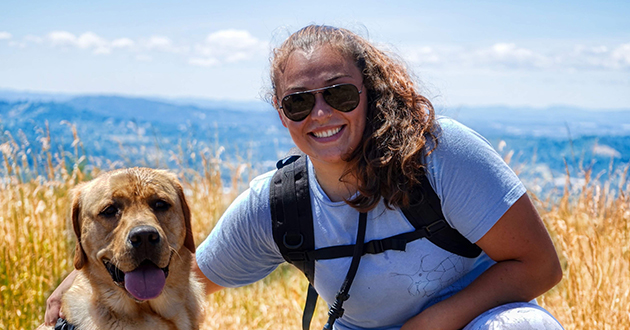 The Net Zero Emerging Leaders Internship grant application is now open for interested firms.
[1] AVID (Advancement Via Individual Determination) is a non-profit providing academic and social support to ensure students' success in high school, college, and careers.