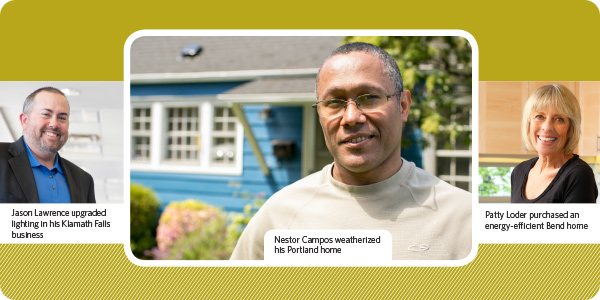 Customer stories, regional results and animated graphics help tell the story of Energy Trust's unprecedented 2012 achievements. They're all part of the interactive 2012 annual report website recently launched.
"We're excited to create an engaging, new way to report on a year where we surpassed our most aggressive goals, saved more energy than in previous years and generated more renewable power from small, local projects," said Margie Harris, executive director, Energy Trust.
"Our achievements are a result of connecting with people to help them improve their lives," Harris said. "The website reflects our commitment to meaningful connections and to showcasing the many utility customers who are making smart energy choices."
The new site includes the following features:
Year in review—The easy-to-click-through section highlights key accomplishments of energy-efficiency programs serving homes, businesses, industry, agriculture and the public sector, renewable energy offerings and the Trade Ally Network.
Customer stories—In-depth stories from 11 customers around Oregon reflect the many ways homeowners, businesses and communities are changing the way they use and generate energy.
Regional results—Visitors can see region-by-region highlights of what Energy Trust delivered in 2012, plus links to local customer stories.
Animated graphics—A series of seven animated graphics demonstrates the range of benefits Energy Trust has provided for ratepayers and Oregon since 2002.
The site also includes a section on Energy Trust's performance in exceeding or meeting annual goals, Oregon Public Utility Commission performance measures and utility Integrated Resource Plan targets, as well as financial reporting.
Visit the annual report website to see firsthand what Energy Trust has achieved together with utility customers, Portland General Electric, Pacific Power, NW Natural, Cascade Natural Gas, trade ally contractors and others.