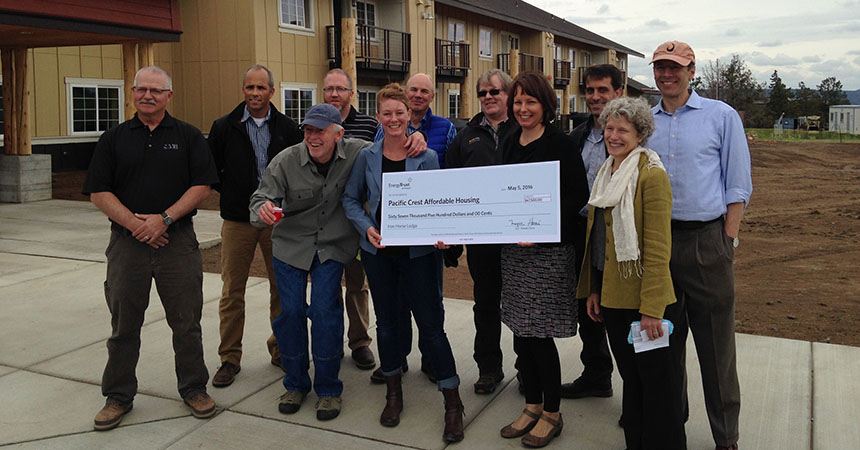 From left:
Back: Mike Maxham (SunWest Builders), Steve Buettner (SunWest Builders), Wayne Powderly (SunWest Builders), Mike Gorman (BLRB Architects), Jim Landin (BLRB Architects), Lee Georgeton (BLRB Architects), John Gilbert (Pacific Crest Affordable Housing)
Front: Rob Roy (Pacific Crest Affordable Housing), Misti Nelmes (Energy Trust of Oregon), Jessica Iplikci (Energy Trust of Oregon), ML Vidas (Energy Trust of Oregon)
Energy Trust of Oregon was joined by community leaders and regional economic development leaders from Economic Development for Central Oregon on May 5 to celebrate the grand opening of Iron Horse Lodge, a new low-income senior housing development. The 26-unit building saves at least 40 percent more energy than required by Oregon's energy code and will generate its own solar energy, with the goal of getting as close as possible to net-zero energy use for the facility. Net-zero buildings, over the course of a year, only consume the amount of energy produced on site.
Pacific Crest Affordable Housing, a Bend-based developer of housing for low-income seniors, set out to make a highly energy-efficient multifamily building to keep operating costs low and more predictable for its fixed-income residents. To meet its goal, the developer enrolled Iron Horse Lodge in Energy Trust's Path to Net Zero initiative, which guided the design team through a series of steps to incorporate energy-saving features, beginning with early design assistance and a facilitated design workshop to help identify goals and challenges at the outset. Energy-efficient features installed include a high-performance building envelope, efficient variable refrigerant flow heating and cooling systems, LED lighting and low-flow water fixtures in each unit and throughout the property's landscaping.
Combine these features with its solar panels, and Iron Horse Lodge conservatively expects to save and generate enough energy to cut down on its annual expenses by more than $9,000—which helps keep rents affordable for low-income seniors in Prineville. In addition, residents can take comfort in knowing the energy-efficient design will help keep monthly utility costs at a minimum.
Want to learn more about buildings in Oregon on the Path to Net Zero? Check out our Path to Net Zero website