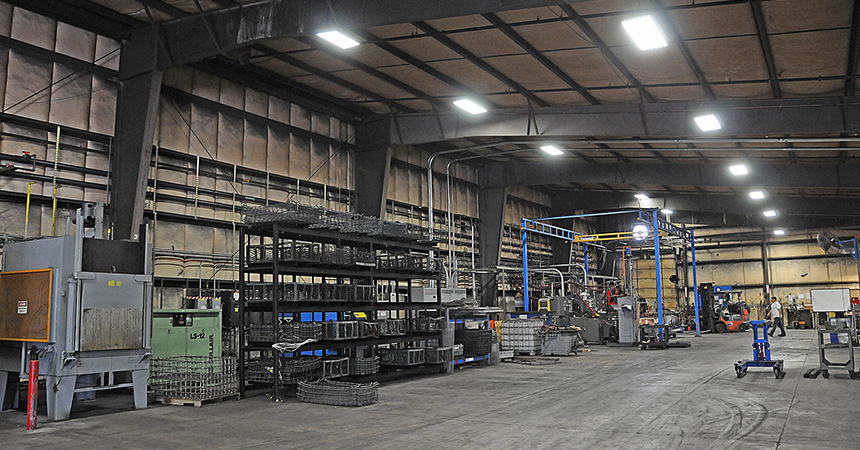 If your business could benefit from brighter, more efficient lighting, now's the time to act. For a limited-time, we're offering a bonus incentive on qualifying lighting projects—giving you the opportunity to receive cash incentives totaling as much as 40% of your project cost. Options include interior and exterior LEDs, including high- and low-bay; decorative/screw-in/PAR/directional lamps; and four-foot tubular LEDs when you remove or replace the existing ballast. Businesses across the state are cashing in on this offer, which runs until Dec. 1, 2020.
EcoLube Recovery, which recycles and re-refines used motor oil, took advantage of the bonus to improve lighting quantity and quality throughout its Portland facility. "Our metal halide lights were so dim that employees had to wear headlamps while working at night," said Jerome James, operations manager. "Energy Trust recommended installing high-bay LEDs, LED flood lights and LED wall packs and gave us a list of qualified contractors. Our installer took care of the details and paperwork, making it very hands-off for us. They were able to remove eight fixtures while producing more light with less energy." EcoLube received $22,000 in cash incentives on its $45,000 project, which cut annual lighting energy costs by an estimated $8,300. "We were able to remove eight fixtures and still ended up with more light. It's safer for employees. They laugh that it's bright enough to play football at night!"
Con-Vey, LLC, in Roseburg, replaced T12 fluorescent lighting with efficient LED fixtures in the office space occupied by its Robotics division. In addition to delivering an estimated 76% energy savings, the new fixtures increased light levels substantially and eliminated problems with uneven lighting. "The area has a much cleaner, more uniform look," said Shane Gilbert, lead electrician at Con-Vey, which specializes in custom fabrication and material handling for the wood products industry. "Thanks to Energy Trust cash incentives, we expect our investment to pay for itself in about 18 months. The project worked out so well, we're considering upgrading lighting in our manufacturing areas."
Stahl Firepits, which manufactures outdoor metal firepits, tapped into the lighting bonus to replace T5 and T12 fluorescent lighting with LED fixtures and drivers. "Moving forward with this project was a no-brainer, particularly because the cash incentives paid for one-third of the cost," said Alex Nelson, owner. "Plus, we're saving a lot every month on electricity and the lighting is 30% brighter." Nelson said he appreciates how easy the process was. "This was my second lighting project with Energy Trust and both have been turnkey."
Infiltrator Systems, which manufactures decentralized wastewater treatment technology, had been struggling for some time with antiquated metal halide lighting at its Swan Island facility. "The color was bad, bulbs and ballasts would constantly fail, repairs were a hassle and costly," said Danny Wyatt, plant supervisor. So, when the lighting bonus came along, Infiltrator Systems opted to replace everything with high-bay LEDs, which cut lighting energy costs by 52%. Infiltrator received $6,900 in Energy Trust cash incentives, which helped offset the $17,700 project cost. "That really helped us make the project pencil out," said Wyatt. "Now, our manufacturing area has excellent light—almost like being outside. Employees can see better and anytime that happens, safety can't help but improve."
Connect with a lighting contractor to discuss the best lighting options for your business.