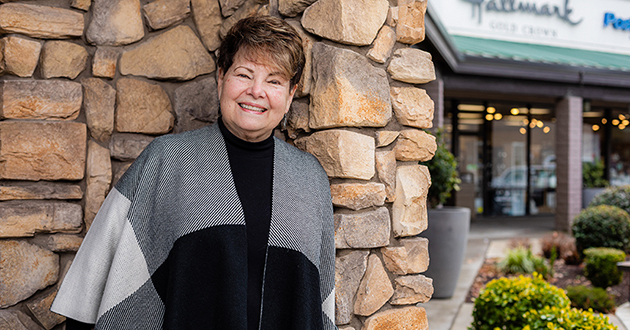 When Stephanie and Tim Reins opened their gift shop on busy Biddle Road, they used whatever light bulbs were in stock, mixing warm tones with cool and fluorescents with incandescents. Working with Energy Trust of Oregon, the store recently upgraded to energy-efficient LEDs for free. The upgrade saves money and shows off their merchandise in its best light.
Over the years, Tiff's Hallmark in Medford has built a loyal following by offering products that you can't find online and customer service that keeps people coming back.
"Frankly, you can buy a card at your corner grocery store. So, what we're known for is great customer service and helping people find exactly what they need," said Stephanie Reins, who owns the store with her husband, Tim.
Tiff's offers greeting cards, collectibles, jewelry and accessories, as well as a U.S. Post Office counter inside the store. It's a one-stop shop for people looking to find and ship gifts to friends and loved ones.
When the Reins opened Tiff's in the Bear Creek Plaza shopping center 10 years ago, the 3,6000-square-foot space was bare bones. The couple consulted with Hallmark on the floor plan and build out, getting approval for every detail.
"We pretty much changed the inside of the store to look just like Hallmark envisioned that space for us," Stephanie said.
The lights, however, didn't get much attention then. And Tiff's has lighting everywhere: Spotlights, pendulum lights, overhead lights in the drop ceiling and built-in display case lighting.
"There was always a light going out here, a light going out there," Stephanie recalled. "We had this beautiful store, and our lighting was just not in good shape."
When bulbs blew out, someone would run to the electrical supply store and hope the right products were in stock. Then they'd have to put up a stepladder and keep their balance while installing new bulbs in the store's precarious nooks and crannies.
"Every time we would go and buy new lights, they would be a different brightness — or in some cases a different color — than we had gotten before," Stephanie said. "To say the least, it was a hodgepodge of lighting. We were definitely ready for some kind of change."
When Energy Trust of Oregon's small business outreach staff reached out to Stephanie, she was thrilled to learn that Tiff's could replace all of its lights with energy-efficient LEDs for free through Energy Trust's no-cost lighting offer for small businesses.
Working with Cox Electric, an Energy Trust trade ally contractor, Tiff's went ahead with the upgrade in October of 2021. "It's now the same brightness, the same intensity, in every part of the store," Stephanie said. "That's exactly what we needed."
Since the new lights will last 35 to 50 times longer than incandescents and up to five times longer than fluorescents, the staff also won't have to change the bulbs nearly as often.
Stephanie is effusive when she reflects back on the process. "In my 43 years in retail, this was one of my best experiences with an outside vendor coming into my store. I can't give enough praise to the people who carried out the Energy Trust lighting. They were wonderful."
The new bulbs literally show Tiff's merchandise in its best light, she added. After the upgrade, "everything looked new. It gave not only the staff, but also myself, a sense of new energy about the store."
The project took about a day and a half, with the electricians working around Tiff's employees so the store didn't have to close during the busy pre-holiday season.
"They were gentlemen, and I use that word deliberately," Stephanie said of the Cox crew. "I would encourage anyone who is thinking about doing this to go for it. The benefits so outweigh any inconvenience — and the inconvenience was minimal."
The new lights will also save Tiff's an estimated $1,250 a year on utilities. That's money Stephanie and Tim decided to put toward raises for the store's 10 employees, keeping their rates above minimum wage.
"My staff means so much to me and we do not want to lose them," Stephanie said. "We want to keep them happy. So, we were able to share that wealth with the people who work so hard in our store."
To see how Energy Trust can help your retail business run better with energy-saving tips and resources, visit www.energytrust.org/for-business.