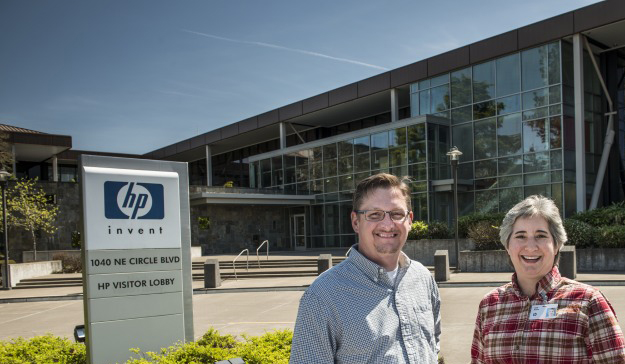 How did technology giant HP reduce its annual energy use by an estimated $145,000 annually? By working with Energy Trust of Oregon and Pacific Power to identify the energy-efficiency upgrades that would save the most energy.
HP received free technical assistance and cash incentives from Energy Trust toward the upgrading of the HVAC systems in three buildings on its Corvallis campus. As a result of the project, Energy Trust presented HP with a check for $354,700 in cash incentives and the company is now saving over 2.4 million kilowatt hours annually.
"HP's increasing energy demand has been significantly offset by taking advantage of the energy-efficiency programs offered by Energy Trust of Oregon," said Leslie Benton, program manager, HP.
"HP understands that there are enormous energy-saving opportunities in their industry and that implementing them has more than just monetary value. Their employees demonstrated great leadership in making this project successful," said Adam Bartini, Industrial program manager, Energy Trust.
"HP leads the way when it comes to maximizing the benefits offered by Energy Trust of Oregon. HP has done an exceptional job of keeping their energy costs flat through these programs, not to mention that HP is a Visionary participant in Pacific Power's Blue SkySM renewable energy program offsetting over 2,600 tons of avoided CO2 emissions each year," Alan Meyer, corporate account manager, Pacific Power.