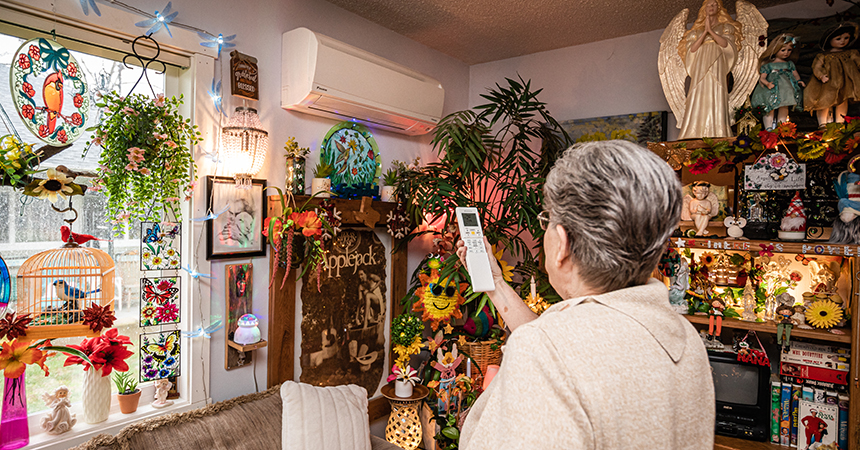 As extreme heat events continue to pose significant challenges for Oregonian, Energy Trust is exploring new ways to help keep people safe and comfortable when temperatures soar.
"There's an urgent need to help the growing number of Oregonians who live in less energy-efficient housing and can't afford to install cooling equipment," said Ryan Crews, Energy Trust senior residential program manager.
For many years, Energy Trust has offered cash incentives for high-efficiency central air conditioners and ducted and ductless heat pumps. Now, under a three-year pilot program that launched in 2022, customers at or below 60% of Oregon's median income can get a ductless heat pump installed at no cost to them.
Heat pumps provide energy-efficient cooling and heating, meaning lower energy costs in winter and comfort year-round.
To connect with eligible customers, Energy Trust designed the pilot and is delivering it alongside community-based organizations, tribes and a community action agency. These partners have relationships with residents and can walk them through the application and installation process.
So far, Energy Trust and partners have installed ductless heat pumps at 63 single-family homes and more than 100 multifamily units.
When Ignacio Rauda got help from Verde to install a ductless heat pump in his North Portland home, it made an immediate difference in the summer heat and lowered his energy bills when the heating season arrived.
"The day after they installed the ductless heat pump, the temperature rose to 100 degrees. But on that super-hot day, it was very cool inside when I got home," he said.
Another goal of the pilot is to learn from customers how to better serve people with high energy burdens and reduce their costs while making homes more comfortable.
The Oregon Public Utility Commission has authorized Energy Trust to invest up to $5 million in this pilot over three years.