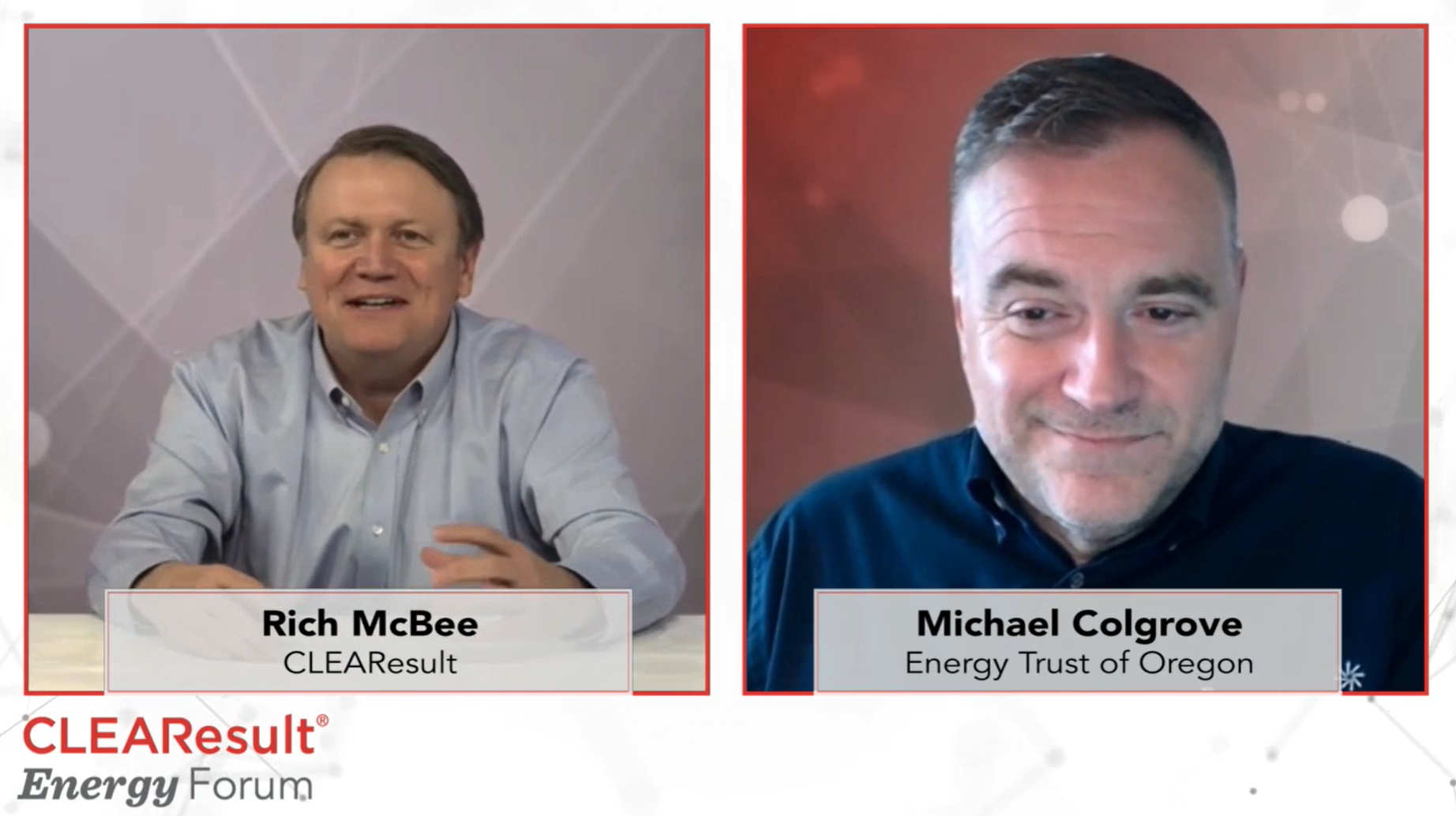 The energy-efficiency industry must innovate to effectively respond to challenges, from growing costs to climate change impacts to systemic inequities.
That was the message from Energy Trust Executive Director Michael Colgrove, who was among the featured speakers at last week's CLEAResult Energy Forum 2021, the company's annual conference.
In a virtual conversation with CLEAResult CEO Rich McBee, Colgrove described some of the top issues facing Energy Trust and the industry. CLEAResult is a contractor for Energy Trust, helping implement its residential, new commercial construction and business lighting programs.
Here are three takeaways from their talk.
Bringing equity to energy efficiency
Across the country, low-income people, rural people and people of color are underrepresented among efficiency program participants. These are groups that often experience the highest energy burdens and would benefit the most from efficiency, Colgrove said.
Many of these communities are also most affected by climate change. For instance, one in five Oregon heat-related deaths during June's heat wave were people who lived in mobile home parks, while rural Oregonians are more affected by wildfires and related air quality issues than people in the Portland area. Meanwhile, research shows people of color across the country are more impacted by climate change.
Reaching these groups takes investment in the form of outreach, revised program design and delivery, and higher incentives for those who can't afford upfront costs.
"It's not enough for us to just say 'There's a program out there, anyone can participate in it.' It doesn't work that way and I think the numbers are bearing that out," Colgrove said. "You have to really design and deliver programs that are meaningful to a diversity of customers."
Higher costs spur innovation
Energy Trust helped transform the market for some of the lowest-cost energy efficiency technologies such as LEDs and low-flow water devices. Costs to support remaining efficiency technologies are higher than before, which is spurring the need for innovation.
"One of the ways we're doing that and trying to make our funds go further is by collaborating with new partners—partners who have not traditionally been part of the energy industry—to bring in additional sources of funding," Colgrove said.
For example, Energy Trust works with the nonprofit Farmers Conservation Alliance on irrigation improvement projects that save energy, generate renewable energy, save water, promote wildlife habitat and provide financial support to farmers and irrigation districts, mostly in rural parts of Oregon.
These projects can qualify for major funding. From 2015-2020, Energy Trust's $11 million project development assistance and investments helped secure more than $167 million in federal, state and private funds.
Check the cracks
While energy efficiency programs are traditionally divided by sector—residential, commercial and industrial—Colgrove highlighted opportunities for innovation when program administrators think outside those divisions.
One example is the work Energy Trust is doing with its utility partners with the goal of reducing energy needs at certain times of day or in certain communities through targeted incentives for customers. Since this isn't limited to one sector of customers, the work has opened up new ways of thinking about solutions for residential, commercial and industrial customers.
"I've always found some of the most interesting, challenges and intriguing opportunities are in the cracks of the systems that we've built," Colgrove said. "It's where things connect… where a lot of opportunities still lie."