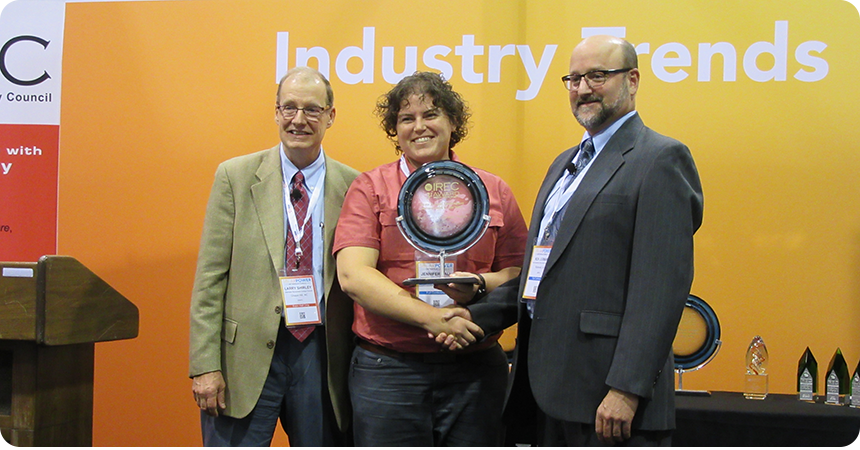 This September, the Interstate Renewable Energy Council presented Energy Trust with its 3iAward for innovation, ingenuity and inspiration in clean energy. The award recognizes the launch of Energy Trust's solar cost reduction initiative, a multi-year plan to help make solar energy systems easier to install and more affordable for customers.
The cost to install solar in Oregon has been decreasing over the past several years, by 9 percent since the beginning of 2014. This is largely due to lower prices for solar modules and other hardware and equipment. Oregonians are responding positively to this trend by installing more solar and tapping into Energy Trust incentives to do so. Since 2002, Energy Trust has supported more than 8,300 solar systems installed on homes, manufacturers, schools, breweries and more from Pendleton to Coos Bay.
Energy Trust works with customers, solar contractors, the solar industry, utilities and others to help make solar systems simpler and more affordable to install. In 2014, Energy Trust started a solar cost reduction initiative to identify and reduce the non-hardware, or "soft" costs, of a system installation, which account for more than 50 percent of the total cost of an average Oregon system. Soft costs include costs related to permitting, inspection and interconnection, installation labor, customer marketing and outreach, and financing.
"Reducing soft costs ultimately leads to savings for the customer, thriving solar businesses that contribute directly to our local economy and more renewable power produced in Oregon," said Jeni Hall, solar project manager, accepting the award on behalf of Energy Trust.
"We're already seeing success with this effort," continued Hall. "As one example, working with the Oregon Department of Energy, we combined the residential solar application process for customers receiving both an Energy Trust cash incentive and a state energy tax credit into one simple online process. A change that contractors say is saving two hours per project."