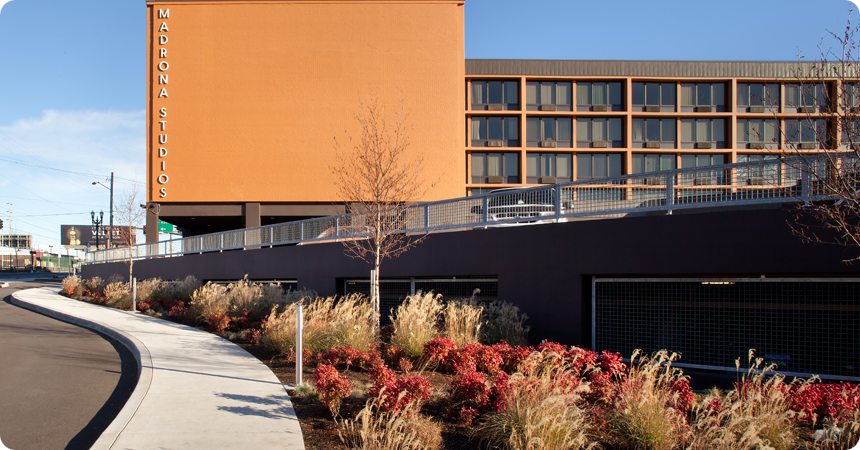 In a report released this December, the American Council for an Energy-Efficient Economy cited Energy Trust of Oregon's multifamily initiative as a successful national example of achieving energy and cost savings in multifamily buildings.
Multifamily properties present unique challenges for energy-efficiency programs, such as needing to work simultaneously with building owners, managers, developers and tenants. The report, Apartment Hunters: Programs Searching for Energy Savings in Multifamily Buildings, acknowledges exemplary programs across the country for success overcoming these challenges, and identifies 10 best practices for other utilities and organizations to use when designing and implementing their own multifamily programs.
In particular, the report recognizes Energy Trust's multifamily initiative for demonstrating two best practices: combining commercial and residential incentives into one easy process for building owners and tenants, and offering multiple pathways to participation, from single project upgrades to substantial retrofits.
Energy Trust's multifamily initiative provides cash incentives for energy-efficiency upgrades for windows, appliances, water heating, weatherization, heating and cooling, lighting and more at apartments, condominiums, assisted living facilities and campus living properties. The initiative provides free on-site surveys to identify upgrades and install energy-saving light bulbs, showerheads and faucet aerators for tenants. Energy Trust also increases the availability of energy-efficient equipment for property owners through incentives to equipment distributors. In 2012, Energy Trust helped customers upgrade nearly 1,100 multifamily properties, and also installed high-performance showerheads and faucet aerators in more than 21,000 units to help residents reduce their individual energy consumption.
"Improved energy efficiency at multifamily properties can result in increased property value and reduced operating costs for the owner, and improved comfort, health and safety for tenants," said Scott Swearingen, senior multifamily project manager, Energy Trust. "This report is a great resource for other organizations looking to design their own energy-efficiency programs for multifamily customers."