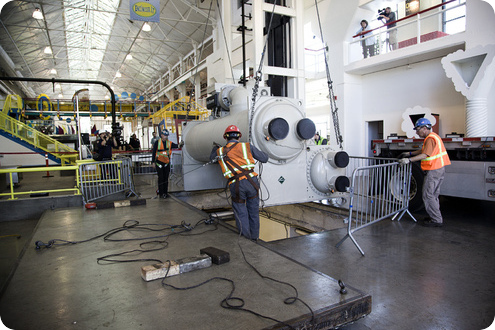 Amidst rising operating costs, the Oregon Museum of Science and Industry made a commitment to use its resources wisely and more efficiently to control expenses, resulting in improved heating, cooling and lighting.
With financial assistance from Energy Trust, OMSI conducted an energy audit of its 20-year-old HVAC system, which produced a list of recommendations that would improve system reliability and save a significant amount of energy. OMSI committed to a major upgrade including installing three chillers, one dedicated to the OMNIMax Theater and two to the museum, plus improved controls for the energy management system.
Energy Trust provided OMSI with $345,000 in cash incentives for the energy-saving chiller installations, which are estimated to save 1.2 million kilowatt hours per year and $90,000 in annual energy costs.
"Energy-efficiency improvements can be daunting, but the resulting long-term energy savings and lower maintenance costs are too good to pass up," said Jerry Bogorad, director of facility operations, OMSI. "Whenever we can save money on operating costs, we free up more resources for other projects in the facility that help us fulfill our educational mission."
With 219,000 square feet of museum to illuminate, OMSI is saving even more energy by upgrading lighting in common areas and exhibit halls with help from Energy Trust. "With our fixtures mounted in high-ceilinged exhibit areas, bulb replacement was a challenging and costly task for the maintenance team," said Bogorad. "These new bulbs will last seven years, reducing future maintenance and repair costs. And the light quality is terrific. Our exhibits have never looked better."
OMSI's energy-efficiency solutions are one part of an overall museum-wide Energy and Environmental Initiative. In addition to tracking energy use, Bogorad says the museum's commitment to sustainability includes "greener" exhibit production, programs to lower water use, increase recycling and reduce waste, and a new bilingual Renewable Energy Exhibit, which Energy Trust helps sponsor.