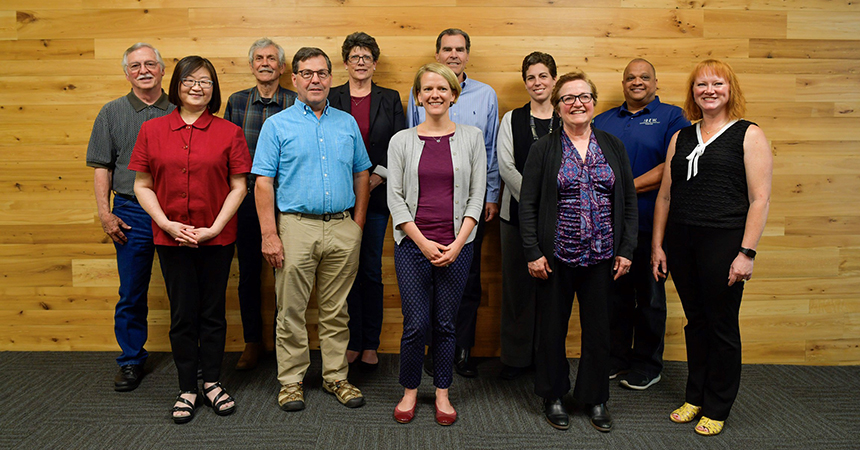 Left to right: (first row) Elee Jen; Mark Kendall; Janine Benner; Debbie Kitchin; Susan Brodahl; (second row) Alan Meyer; Roger Hamilton; Anne Haworth Root; Roland Risser; Letha Tawney, Oregon Public Utility Commissioner; and Eric Hayes.
This month, Energy Trust's board of directors met for its annual Strategic Planning Workshop. The two-day workshop was an important opportunity for the board and Energy Trust's staff to discuss a working draft of the 2020-2024 Strategic Plan, as well as the organization's vision and purpose. The workshop was one of many input sessions that informs Energy Trust's final strategic plan.
The current draft strategic plan identifies five proposed focus areas for Energy Trust, including supporting strategies for how Energy Trust could execute on the focus area and progress indicators to measure achievement.
Focus area 1: Provide relevant, cost-effective energy efficiency and renewable energy programs, information and services for all customers of our partner utilities, including information and services designed specifically for underserved customers.
Focus area 2: Strengthen the value we deliver to customers by linking energy efficiency and renewable energy to the approaches utilities are using to meet changing customer needs for energy.
Focus area 3: Provide impartial, objective information and analysis to support implementation of energy policies.
Focus area 4: Maximize public benefits from public purpose funding by leveraging additional funding to advance our core energy efficiency and renewable energy objectives, and to realize non-energy benefits that Energy Trust is uniquely positioned to help accomplish.
Focus area 5: Continue to build organizational flexibility, adaptability, diversity and innovation to enhance Energy Trust's ability to quickly and effectively respond to changes, needs and new opportunities.
More information about each proposed focus area, as well as a summary of how well Energy Trust is tracking against the current strategic plan, is included in the materials shared at the Strategic Planning Workshop.
This summer, Energy Trust will welcome additional input on the proposed strategic plan from utilities, business and community leaders, the Energy Trust Conservation Advisory Council and Renewable Energy Advisory Council and members of the public.
Interested in contributing comments? Watch the Energy Trust website for information about the public comment period and how you can provide input.
The final 2020-2024 Strategic Plan will be presented