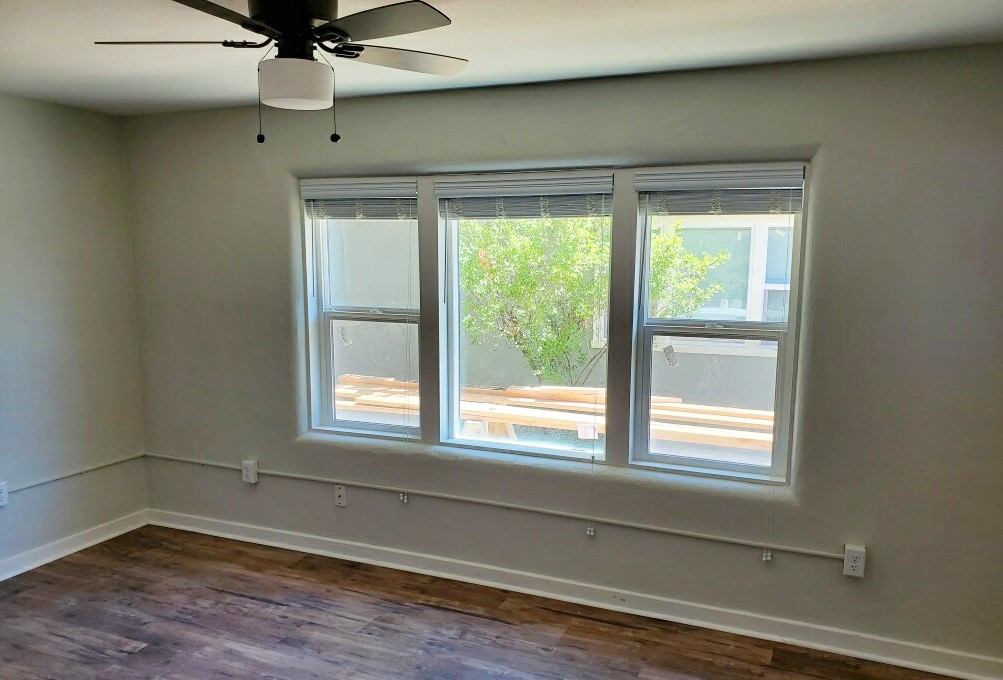 Garrett Childress purchased a Lakeview fourplex apartment building in March 2020 as a long-term investment. The property needed quite a bit of work, but the Lakeview native was eager to give back to his community and provide residents with updated housing.
For Childress, energy upgrades are always an important first step to realizing his investment strategy and he often starts with deferred maintenance projects. "Sometimes energy upgrades might get skipped when taking over a new property, but Energy Trust of Oregon can help identify upgrades and areas of improvement. When I decide to move forward with an upgrade, I always think of Energy Trust," said Childress.
Built in 1960, the fourplex was showing its age with rotting wood and outdated single-pane windows. The Southern Oregon town experiences long, cold winters and hot summers, so Childress knew energy-efficient windows would be necessary to improve tenant comfort and energy bills. Childress worked with Energy Trust to identify qualifying energy-efficient windows that would reduce energy use and costs. Hector Chavez, owner of PNW Construction & Remodeling in Bend, completed the upgrades and installed 41 new U-value 0.27 or lower windows. Hector and Garrett adhered to COVID-19 state regulations and were able to complete the upgrades in a safe and timely fashion.
The project earned $1,580 in cash incentives from Energy Trust and the upgrades will save nearly $330 in estimated annual energy cost savings. In addition to the cost-savings benefit, each unit now features new windows that prevent heated or cooled air from escaping units. "Tenants can expect to see much lower heating costs this winter due to the insulation improvements and the units will be much warmer" said Childress.
To learn more about cash incentives for energy-efficient updates, visit www.energytrust.org/mfcashincentives or email multifamily@energytrust.org for questions.