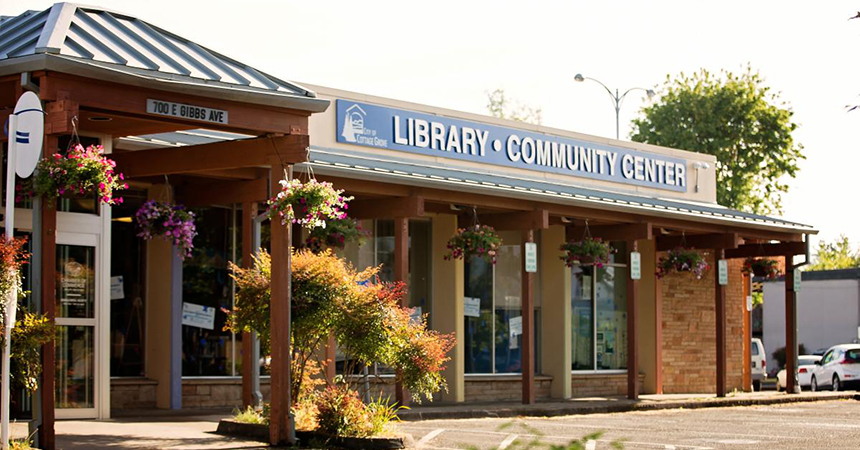 Through its Vision and Action Plan, the City of Cottage Grove committed to regional and city-specific environmental improvements, sustainability efforts and resource conservation. But there's always the need to make the improvements cost-effective. This past year, Public Works and Development Director, Faye Stewart, saw a great opportunity to do both. With the help of Energy Trust of Oregon, Stewart coupled much-needed repairs to the city's Community Center with energy-saving upgrades that helped with material costs.
The Cottage Grove Community Center serves as a library six days a week, and multiple community organizations, including Senior Disabled Services, use the center for office space. It hosts a variety of daily activities, and it houses Café 60—a senior meals program that provides group dining. About five years ago the roof started leaking. Stewart says the staff had to make repairs at least once a month for years.
"Before we could find a way to fund the roofing project, we spent several thousands of dollars making large patches to the roof to get us through the last two years," Stewart said.
Stewart contacted Energy Trust for ways to incorporate energy efficiency into the roof repair. Through limited-time increased incentives offered in partnership with NW Natural, the City of Cottage Grove received $47,300 for 23,700 sq. feet of high-efficiency insulation. The new insulation is estimated to further save the City of Cottage Grove $3,900 on annual utility costs and improve indoor comfort.
By choosing to install energy-efficient insulation at a time when repairs were needed anyway, the city saved money on high-quality building materials. Stewart says this is an approach he takes regularly.
"In my past career, as a county commissioner for Lane County, I was always communicating with Energy Trust to see if there was a program out there that could assist with projects," Stewart said. "I would really encourage anybody who can benefit from Energy Trust—whenever you're doing a project check in and find out if there are some opportunities."
Are you looking to make repairs on a building? Check out available incentives or contact our team of energy advisors to learn about current opportunities to integrate energy-saving materials and techniques into your project.