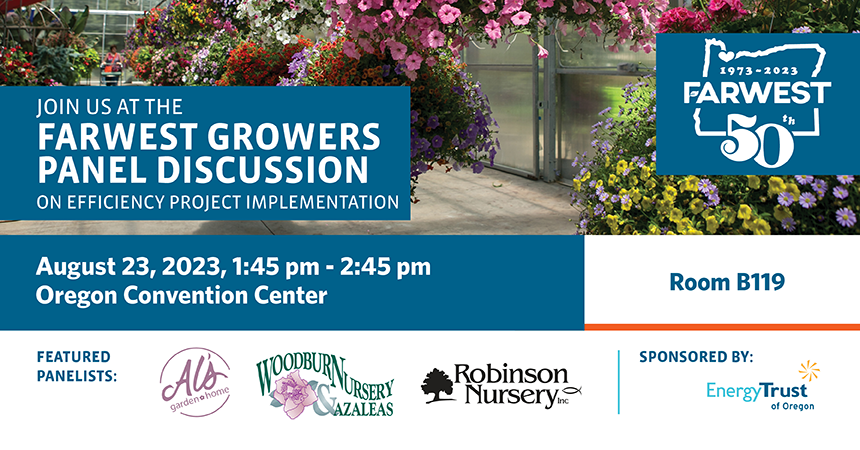 As Oregon'son sustainability and energy efficiency continues to grow, industries of all kinds are embracing innovative solutions to reduce their environmental impact and operate more efficiently. The horticulture and nursery industry plays a vital role in shaping our environment while striving for sustainable practices. Energy Trust is excited to support this community to make their business and land more energy efficient This event brings together industry leaders, insightful discussions and a vision for a greener future.
Join Energy Trust, and others at the Oregon Association of Nurseries' Farwest Show, which takes place August 23-25 at the Oregon Convention Center. Come see us at booth 14048.
Our booth will be a hub of knowledge, offering attendees the opportunity to explore the latest advancements in energy-efficient technologies and practices tailored specifically for the nursery sector.
At our booth, you can:
Discover solutions: Discuss a range of energy-efficient products, technologies and strategies that are tailored to the unique needs of
Engage with experts: Our team of experts will be available to answer your questions, provide personalized insights and offer guidance on how to optimize energy use, receive cash incentives and reduce operational costs.
Access resources: Pick up informative brochures, find resources and read customer testimonials that highlight successful energy-efficiency projects within the industry.
Network: Connect with fellow industry professionals, share experiences and exchange ideas on sustainable practices and energy-saving opportunities.
During the show, stop by the . This session is scheduled for August 23 from 1:45 PM to 2:45 PM and will be a valuable opportunity for attendees to gain insights from panelists who are local growers that have successfully integrated energy efficiency into their businesses.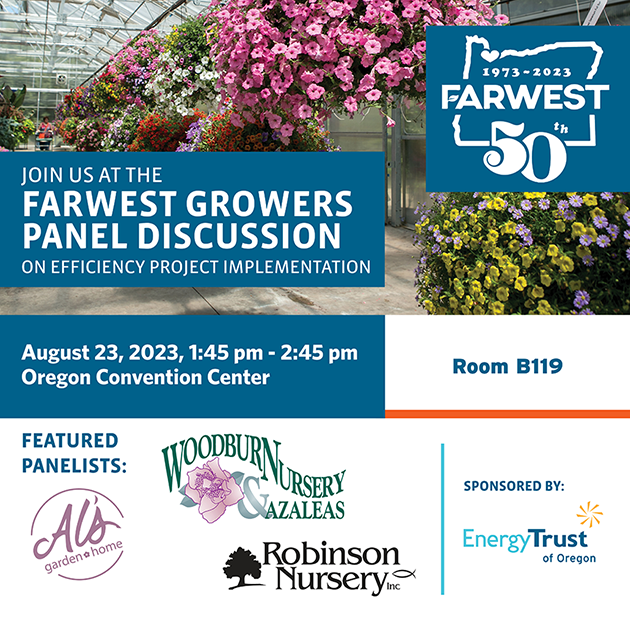 Featured :
Learn more about the Farwest Show and register.