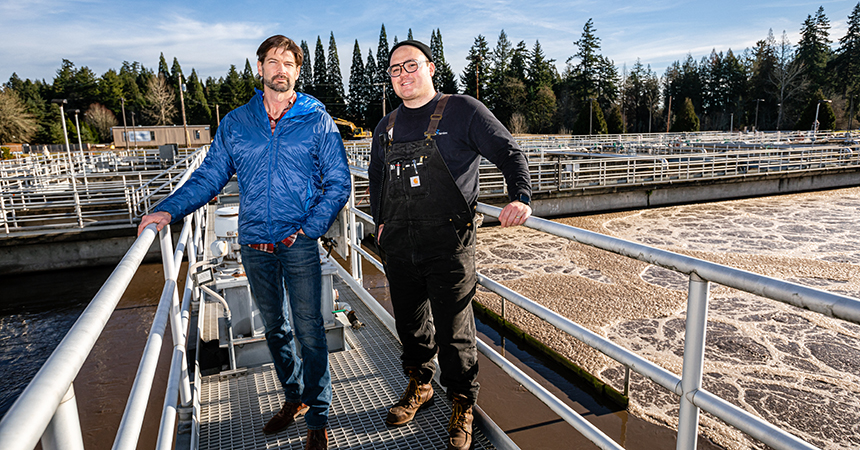 Clean Water Services, a water resources management utility serving 620,000 customers in Washington County, does all it can to keep rates low. That includes continually looking for ways to cut energy costs. With a 13 year history of working with Energy Trust of Oregon, the utility reached out for help on equalizing influent flow at its Rock Creek wastewater treatment facility. Fast forward to today: The utility has achieved flow equalization by optimizing its controls, saving approximately $25,000 a year in energy costs, while improving the treatment process and reducing wear and tear on equipment.
Flow equalization involves raising the wet well level in a plant's incoming sewage holding container to reduce the peaks and valleys of treatment. Because flow equalization has risks and is not appropriate for every plant, Energy Trust provided a technical study and long-term support to help the utility achieve its goals.
"Flow equalization is complex, so we wanted to go slow to make sure we got it right," said Tonya Zinzer, asset management engineer, Clean Water Services. "Energy Trust provided detailed data analyses to support our decision making. Later, they provided a cash incentive of approximately $60,000 to help us make flow equalization happen."
Clean Water Services was able to safely raise its wet well level from a previous setpoint of 102 ft. to an average high of 110 ft. The increased wet-well capacity evens out influent flow into the plant, which previously peaked in early morning and evening when customers are active and bottomed out during the night. Eliminating flow variations increased the head pressure on influent pumps, allowing them to operate at lower, more energy-efficient speeds. The aeration blowers also perform in a more efficient range.
Software controls track incoming flow and continually optimize the wet well level to save energy and minimize risks from sudden storms that can cause inflow and infiltration. Although third-party software is available to achieve flow equalization, Clean Water Services programmed and optimized its existing controls using in-house talent—saving significantly on installation costs.
Clean Water Services is enjoying other benefits from flow equalization. "Our pumps, blowers and actuators are no longer working as hard, opening the opportunity for longer equipment life," said Zinzer. "The higher wet well level makes it easier to flush out grease and grit, resulting in less settling. And our biological process is performing better than ever."
Learn more about waste water incentives from Energy Trust of Oregon.