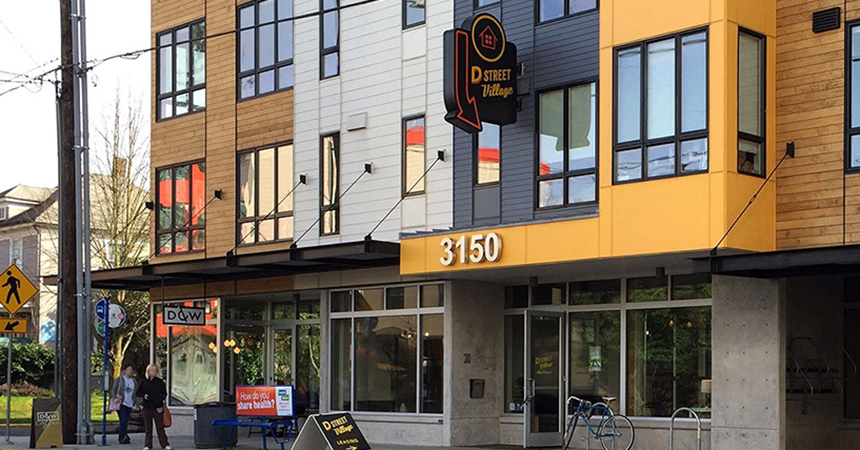 The D Street Village Apartments in SE Portland strive to provide a community where living is comfortable, easy and fun. As such, Maria Proctor, assistant property manager is always looking for ways to improve the living experience, including creating a more energy-efficient environment for residents.
Proctor had worked with Energy Trust of Oregon previously to complete energy upgrades at other properties, so she was familiar with the value provided by energy-efficient upgrades. For D Street Village, she worked with the Energy Trust team to supply 100 rental units with free energy-saving products. Residents received energy-efficient showerheads, faucet aerators, advanced power strips and LED lightbulbs—which alone use up to 85% less energy and last up to 15 times longer than standard lightbulbs.
In addition to the savings benefits, the longer-lasting, energy-efficient products mean on-site maintenance teams will have additional time to tackle more pressing site issues instead of dealing with minor tasks like water fixture issues and replacing in-unit bulbs.
Proctor was particularly pleased with the seamless process. The free energy-saving products were delivered straight to the property and packaged for individual units, allowing her team to easily distribute to residents. "The process was quick and easy. We are thrilled to be able to add energy-efficiency to the list of benefits we offer residents," said Proctor.
The energy-saving upgrades are estimated to help residents save a combined $2,180 in energy costs in addition to over 1,000 therms of gas and nearly 10,000 kilowatt hours of electricity annually.
To request the delivery of free energy-saving products at your multifamily property, visit www.energytrust.org/freeupgrades or email instantupgrades@energytrust.org.