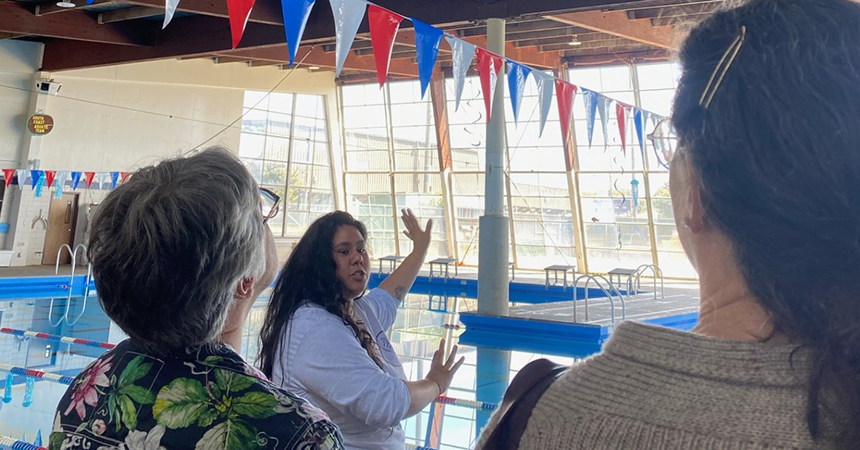 Energy Trust's board of directors took its meeting on the road in June, spending two days in Coos Bay and North Bend on the Southern Oregon Coast to hear directly from customers and community members.
Through a series of tours and events, board members had the opportunity to learn first-hand how customers there are investing in clean, renewable power.
"It has always been a highlight for me when we get to take our meetings on the road like this," Henry Lorenzen, the board's president, told the crowd at a reception in downtown Coos Bay with local community leaders. "Seeing these resources up close helps us as board members connect with and appreciate the impact that energy savings can have, especially for rural communities."
The visit kicked off with a tour of Coos Bay's Wastewater Treatment Plant Number 2, which uses energy-efficient technology to save energy and control costs – and boasts an impressive view of the Coos Bay channel to the Pacific.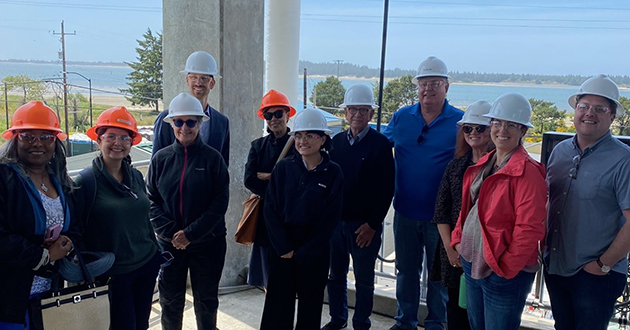 Later board members toured North Bend's community pool, which cut its energy costs this year after upgrading to highly-efficient LED lighting as part of a two-year renovation.
"Since 1957, generations of swimmers have learned to swim here, and with a recent renovation complete and a plan for managing energy costs, it will be ready for generations of swimmers to come," said Claire McKee, aquatics director.
The board held its June meeting at Southwestern Oregon Community College, a longtime Energy Trust customer. It also got a chance to tour the college's new health and science building Umpqua Hall – the first building on the South Coast to participate in Energy Trust's Path to Net Zero offer.
Board members were awed by the form and function of this state of the art, energy-efficient facility serving the college's nursing, EMT and science students as well as the community.
"I'm happy to say that it saves about 44% of our energy budget, and we get to put that back into the college contributions and fund this whole energy package," said Jeff Whitey, the college's vice president of administrative services.