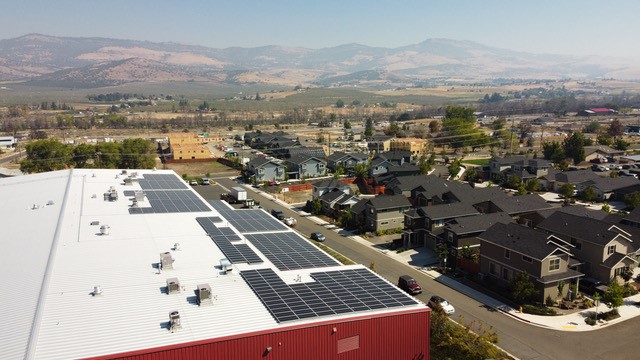 More than two years after organizers began working to bring community solar to Southern Oregon, a solar system atop a building in Talent is now generating energy and helping residents save on their utility bills.
The project was organized by the nonprofit Solarize Rogue in partnership with Oregon Shakespeare Festival, which has a production building in Talent, and Oregon Clean Power Cooperative. It is the first community solar project in Pacific Power service area to reach commercial operation.
Last summer, the team had 362 solar panels installed by Energy Trust trade ally True South Solar on the production building's roof. But equipment delays and other challenges meant they had to wait several months before starting commercial operation.
The system is expected to generate more than 172,000 kilowatt hours in its first year.
Ray Sanchez-Pescador, president of Solarize Rogue, said the group has been humbled by the community's positive response to the project. It is now working on future community solar projects in partnership with Oregon Clean Power Cooperative.
Community solar is a great option for renters, people who live in apartments and others who want to use solar energy but may not have a sunny roof of their own or the funds to invest in a standalone system. Participants are credited through their electric bills for their portion of the energy generated.
While most community solar projects are built by professional solar developers, Solarize Rogue recruited people to help pay for the upfront costs and act as both owners and subscribers to the project.
The group received a $100,000 incentive to help cover construction costs from Energy Trust.
Learn more about Energy Trust incentives for community solar projects by public or nonprofit organizations and developers of small-scale projects.