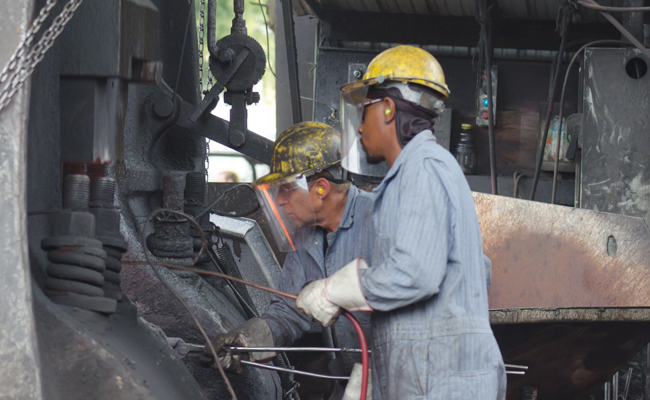 Located in North Portland, Columbia Forge & Machine Works 32 employees manufacture steel parts for several industries, including handholds for rail cars, hardware for power company transmission facilities and products used in battleships and aircraft carriers. The company's forging and upsetting operations are energy intensive, as are the four buildings that house the company's three divisions.
To retain market advantage for his small business, Tom Leaptrott, co-owner, diversifies products to weather the ups and downs of the economy and invests in energy efficiency to keep operating costs low. "We rely on Energy Trust of Oregon to help us be more efficient in our plant operations," said Leaptrott. "Through them, we hear what other companies are doing and learn about best practices that improve our processes to lower our energy consumption."
Over the past few years, Columbia Forge completed energy-efficiency upgrades throughout its business. The company switched to variable speed drives in its air compressors and saw an immediate decrease in electricity use. Columbia Forge also invested in new controls to manage temperatures in the gas furnace, which improved efficiency and produced big energy savings.
A new project is underway to replace interior and exterior lights with the latest in LED technology throughout the company's 14-acre base of operations. Leaptrott also expects to see safety improvements from the switch to LED. "The better lit the work area, the safer it is for employees," he observed. "Safer conditions add to improved productivity and morale. Plus, since LEDs put out minimal heat, we'll control our HVAC costs as well."
Leaptrott's strategies have paid off through the company's market expansion and revenue growth. "Controlling costs by reducing energy consumption adds up to real savings that can be directed back into the business," he said. "The projects we do with Energy Trust have to make business sense. Energy prices consistently go up over time, so finding ways to manage our costs today is important to the future growth of our company. Being energy efficient and good to the planet is also a good business practice and an important part of our company strategy."
According to the Oregon Employment Department, 87 percent of Oregon's manufacturing firms are small, employing fewer than 50 people.