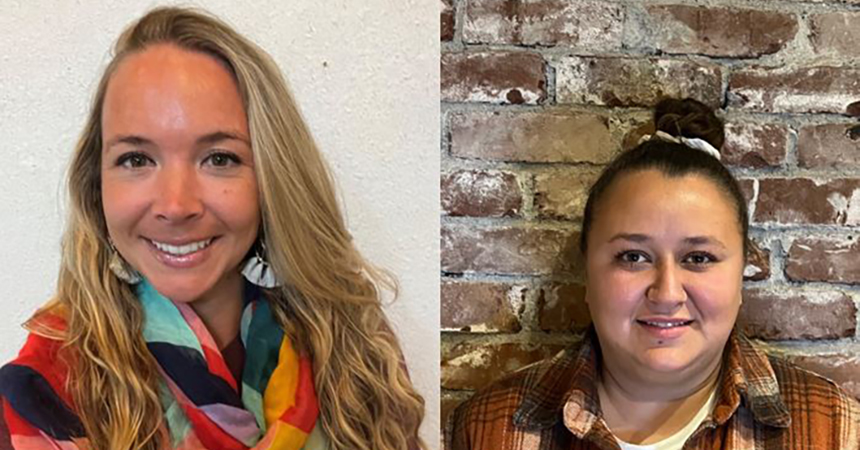 Eve Elderwell, left, and Monica Campos
This is a part of a series of blog posts amplifying community voices.
Over the past 50 years, The Next Door has strived to build strong communities where families and children can live safer and healthier lives. Based in Hood River and The Dalles, the group serves seven counties in North Central Oregon and South Central Washington. 
"Our mission is opening doors to new possibilities by strengthening children and families and improving communities," says Eve Elderwell, equity and outreach training services program manager.
We talked with Elderwell and Monica Campos, The Next Door's equity and outreach training services program coordinator, about the group's services, its work with Energy Trust and how it is helping more people benefit from clean energy..
Q: What services does The Next Door offer?
Elderwell: We have over two dozen programs supporting communities in North Central Oregon and South Central Washington. We have community-specific programs for LGBTQIA, Latinx and Native communities, along with mental health collaboratives and family services. We have treatment services for foster care and youth support. Economic development services through our work with small businesses has also been a big investment we've made.
Q: What is the working relationship between Energy Trust and The Next Door?
Elderwell: Our initial connection traces all the way back to the end of 2017 when Mid-Columbia Economic Development District began coordinating efforts to develop an energy plan for Hood River County. They originally approached The Next Door in order to seek support and guidance in reaching out to the Latino community for input and to ensure that diverse communities – including communities of color and households with lower incomes – were being included in the conversations.
Something that we've been impressed with in our collaboration with Energy Trust over the last few months is just how customer centered you are. We're a very community centered organization and we seek to work with organizations where we have overlaps in terms of wanting to be community first, elevating and empowering community members, and promoting community health and sustainability.
Q: What are some energy-related activities you have in the works?
Elderwell: We have been working on surveys that we're getting ready to launch that will give us a read on the gaps that exist in our community as far as energy efficiency goes and where we can step in to either provide resources or information.
We're also working on a workshop where people can come and learn about solar energy. If they come to the workshop, they have the opportunity to get discounted solar panels on their houses and have a contractor come in and check it out at no cost. So, we are working at The Next Door to recruit and do outreach for people who may be in need of these services in our communities. We're currently doing a lot of house-to-house outreach as well as tabling at many events we have around the area.
Q: What do you see as the biggest gaps in improving energy efficiency within the residences for the communities you serve?
Campos: With the people we've spoken to, the majority said the cost to install is the biggest barrier. Lack of awareness of the different available resources is another very common thing. You don't know what you know don't know.
Q: What are you hoping are the outcomes of these community surveys?
Elderwell: I hope the information from these surveys can be shared back with the community and create different opportunities for us to work with Energy Trust and provide program offers that can meet people's needs. Ultimately, we want to give folks a chance to live easier lives because that's what we're about at the end of the day.